Founder Superpower #4: Momentum
Below is an excerpt from our book Startups Made Simple: How to Start, Grow and Systemize Your Dream Business. Learn more about the book here.
---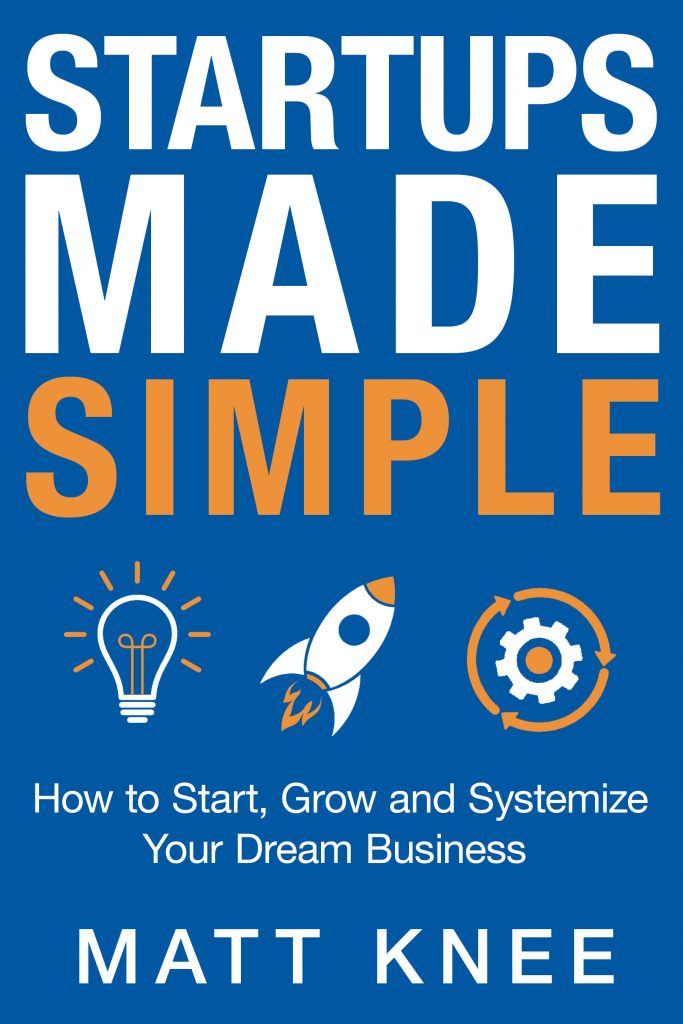 ---
Superpower #4: Momentum
Hopefully you're starting to see how critical energy is, and how you can use it to your advantage. Anyone who has watched a sports event where a team comes back from behind and then dominates knows exactly what I mean by momentum; you can feel it in the air. It's one of the best sensations in business and life, and I highly recommend you use it to fuel your startup. Momentum supercharges energy.
So, how do we build momentum? As you are probably starting to realize, all these superpowers work together in many ways. As we'll see later, having a great Vision and learning to Execute will create momentum, which is infectious, your team will naturally be motivated by your momentum, just like the sports team example above.
The reason why I separated it out as a superpower is that I just want to make sure you recognize the power of momentum and use it to your advantage. You'll feel it typically as a gut feeling and possibly a rush of energy that may last hours or weeks. Use it! Sometimes, I'll only hit a good surge of momentum once a week or even once every few weeks, but one thing I never do is waste it. I know when I'm in the zone and use that momentum to get a massive amount of things done, push big projects forward, get things done around the house, or even knock off a bucket list item. (You can use momentum for fun!)
One final tip I have concerning momentum is to try to preserve a little so you can reignite it the next day. I'm somewhat infamous to those who know me for being able to work 18 hours in a row on a project or idea. While that allowed me to get great things done when I was younger, there was always an inevitable crash afterward. The older, wiser me knows that I should cut out after the momentum begins to fall off a bit and simply reignite it the next day, letting my brain work on it and continue being excited while I sleep.
Energy Best Practices
Having plenty of Energy is usually a matter of doing some very basic things but I realize a lot of this goes out the window while doing a startup. Here are some best practices:
Good sleep. Prioritize sleep above all as your main source of energy and renewal. Sleep at least 7 hours (and more if necessary) and make sure you practice proper sleep hygiene (minimize blue light at night, cool room, no noises, etc.). There are many good sleep apps, trackers and even special beds and "light blockers" available to optimize sleep.
Clean diet. Most startups are run on a consistent supply of donuts, pizza and other junk and while this is fine occasionally, you'll want to keep your diet as clean as possible to maintain an ideal weight and to provide plenty of energy. Consider intermittent fasting which is getting very popular among high-performing people as a source of energy and clarity.
Exercise. We all know we should do it so make exercise a priority. Even jogging around the block or bodyweight exercises at the office are helpful and a big key is finding an exercise routine you like doing. Realize that exercising actually gives you more energy, improves sleep and optimizes mood.
Purge negative energy. Negative people, thoughts (negative self-talk) and media should be removed from your life as much as possible. You want to remove anything that drains your energy including abusing alcohol or drugs.
Emotional self control. Work on becoming thick-skinned and "highly undisturbable". I recommend a few books in the Chapter Resources.
Sunlight. More data is coming in every day about how important sunlight and your vitamin D levels are for overall health and energy. Get plenty of sunlight, have your vitamin D levels checked regularly and supplement or use a light therapy device to resolve any issues.
Supplement. Get a regular panel of blood work for the various markers of health and supplement accordingly. Apparently, vitamin D, magnesium, iodine, omega-3 and other nutrients are at historically low levels across the western population and can usually be resolved with simple supplementation. I list some tests in the Chapter Resources.
Meditation or relaxation. As mentioned, a huge percentage of highly successful people have a regular meditation or relaxation routine. There are many books, apps and websites that make this ridiculously easy to learn and I list some in the Chapter Resources as well.
Sense of humor. As discussed, it's all a game and you can't take any of it with you. Maintain a sense of humor, even in the face of bad situations and you'll tend to get through things just fine. Laughter is a powerful cure to many problems.
This was an excerpt from our book Startups Made Simple: How to Start, Grow and Systemize Your Dream Business. Learn more about the book here or see our previous excerpts here. 
This entry was posted on Thursday, November 7th, 2019 at 3:53 pm and is filed under Small Biz Management, Starting A Business, Startups Made Simple Book. You can follow any responses to this entry through the RSS 2.0 feed. You can skip to the end and leave a response. Pinging is currently not allowed.