How to Create an Intranet for Small Business
Put an end to repeating yourself and boost efficiency by creating a centralized communication hub. Constant interruptions from employees looking for information can wreak havoc on your schedule. Here is an overview of the most popular Intranet tools to make information accessible and move your company toward being systemized.
What is an Intranet and Where to Begin
Entrepreneurs wear many hats to run their businesses, and you have probably worn them all at some point in your journey. Taxes, marketing, bookkeeping, and more are all important functions in your company, and if you're the only employee, you're likely managing all of these tasks. But what happens when you hire a team? Employees need access to all sorts of information to do their jobs. Without a centralized hub, you'll inevitably be overwhelmed with constant requests for that information. Since the point of hiring is to free up your time, setting up a password-protected Intranet will better equip your staff and dramatically improve productivity.
What is an Intranet? An Intranet is basically a secured internal communications network where all company information, documents, announcements, contacts, and procedures are stored.

How is an Intranet Set Up? Depending on your needs, there are three options for setting up your Intranet.

Design and build an Intranet from scratch and host on your company's server.
Start with an off-the-shelf Intranet software and download to customize.
Set up a cloud-based Intranet hosting service.
What an Intranet Should Include
Your Intranet will work well if it is organized and clear to its users. Here are some essential and recommended pages to work into your design.
Home page – This is the page you'll want your team to check daily for important announcements and updates. By posting on the Home page, endless memo type emails are eliminated. Have your team members set company browser home pages to this page for quick and easy access. You can set up the Home page so any user can edit and update, but the administrator is able to roll back updates and recover deleted files.
Contact List – This page can be categorized in a few different ways. You can add sections for Employees, Vendors, and other important company contacts. Or you can just add links to the information if it is stored somewhere else in your company server. You can also add separate Contact List pages for employees, vendors, etc. Go with the style that works for you, but make sure to keep it simple.
Procedures Manual – Having company procedures available in one place is a HUGE time saver. It allows existing and new employees to find the instructions they need without interrupting you. This is an excellent tool if you hire temporary workers also. With simple and clear procedures stored, you should be able to bring someone in "off the street" and put them to work with the direction they need.
"How To" Page – Use this page to list instructions for things like changing printer ink, setting up email, ordering office supplies, etc. Listing instructions for everyday matters gives your staff the help they need without approaching you directly.
Company Calendar – Keep items like time-sensitive processes, birthdays and time off in one central calendar. Make the calendar accessible to all staff, so anyone can see what they need without asking you.
Other Recommended Pages – Business Ideas, Suggestion Box, Marketing Info, Vendor List, Employee Contact Info, projects, etc.
Once your Intranet is set up, make sure your team is trained. Most platforms offer video tutorials that can teach staff how to use the system. Whether it's you or your employees doing the training, regular use of the Intranet is imperative if you're going to stop repeating yourself. Make sure each employee uses the Intranet daily.
Top 5 Intranet Platforms
We use Google Sites and it's free and very easy to use as a small business Intranet. Set up is quick with drag and drop sections and easy editing. You can build from scratch or use one of the user-friendly templates to get started. This interface is also easy to learn, so users should be up and running in no time.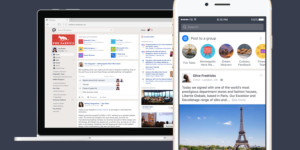 Workplace is Facebook's company communication tool for in-office and remote workers. All the familiar Facebook features like Groups, Chat, Rooms and Live video broadcasting are used in this interface to get people talking and working together. Customize Groups for specific projects and share files and content across your organization or just with those in your Groups. The layout is minimal and clean, easy on the eyes and simple to navigating.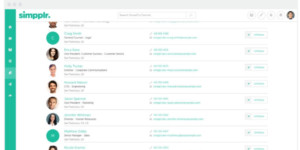 Simpplr is a modern Intranet platform that is highly rated for ease of use and value. Cost is per user and deployment works with Windows, Apple and Android systems. You can install directly to a device or run your Intranet in the cloud or via SaaS. Features include calendar management, discussion forums, content and blog management.
HCL Connections (formerly IBM Connections)
HCL's Intranet requires more in-depth learning, but one feature that really stands out is that the application adapts to the user's needs. You can securely share files and documents and work on projects with other users. Whether you are the employee, partner or entrepreneur, this system can be customized to suit your style. Set up groups and sub-groups for projects, teams, offices and more.
This team collaboration app unifies workers and connects them to the resources needed to do their jobs. It also connects with Zoho's many other workplace apps. Once the app is set up, users can share ideas and work together in real-time over the web. Advanced users can even create apps. Contacting your team from anywhere is simple. Communicate quickly with one employee or an entire team.
Centralization is Key
If you want to make the best of your time, setting up a company Intranet is the perfect way to do it. Whether you design from scratch or just use a cloud-based solution, storing all your documents, files and projects in one place allows your team to make the best of their time while you spend yours growing your business.
This entry was posted on Tuesday, December 22nd, 2020 at 3:46 pm and is filed under Starting A Business, Small Biz Management. You can follow any responses to this entry through the RSS 2.0 feed. You can skip to the end and leave a response. Pinging is currently not allowed.