How to Make a Fast and Simple Marketing Plan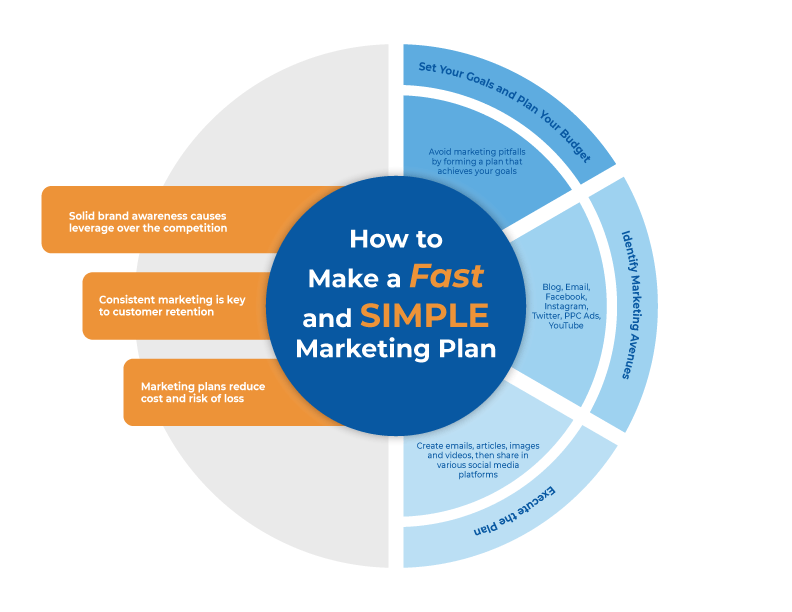 Don't waste another minute worrying about advertising. We'd like to share some valuable information and resources to help you launch a quick and simple marketing plan. Working with the right tools and a reasonable budget are all you need to build your plan. You can set up your marketing plan and get it working quickly with some helpful tools and tips from the pros.
No Advertising, or Advertising Without a Plan?
The reality is that both methods are costly and can put a dent in your bottom line, making it difficult to retain and grow your business. Small businesses that don't advertise are also leaving money on the table for competitors and making it easier for them to win the market. Word-of-mouth has its value, but it simply can't reach consumers who haven't heard about you. Every big brand you can imagine spends a ton of money on advertising because it works.
Since marketing for revenue increase and brand awareness is a long haul process, occasional posts and ads without any strategy behind them are just not going to perform well. The purpose of any marketing is to put your business in front of someone who might generate a sale. Working with a plan will accomplish your goals while making the best use of your budget.
Benefits of an Effective Marketing Plan
One of the best things about a functioning plan is that it should be telling you what needs to be done and when so you don't really have to think about your next topic or format for the next promotion.
Keeping all the details in one place makes sharing and collaboration with your team simple.
Working with a plan allows you to see actual results from various types of advertising. You can update your plan based on data, not guesswork.
If you're new to being an entrepreneur, Founder Matt Knee's book Startups Made Simple: How to Start, Grow and Systemize Your Dream Business is an excellent guide to walk you through each phase of your business.
WordPress agency Devrix is hosting a list of important stats to know when you're thinking through your marketing plan.
Set Up and Execution
Set Your Goals and Plan Your Budget
Marketing is as important to your business as managing your business, and it deserves a reasonable budget to work well. Marketing is what empowers you to reach your goals, whether they are to increase revenue, launch a new product, harvest new leads, or retain existing customers. This insightful free marketing plan template by Mayple has a spot right at the beginning where you can record goals. Many other free and low-cost marketing plans also cross-reference goals and KPIs with other data so you can see if the goals you have set are being reached. Here is a marketing plan checklist to get you started. Click here if you need help deciding how much to budget for marketing.
Identify Marketing Avenues
Testing a combination of various marketing avenues is a great way to find what works best for your product or service. What works for other businesses may not do well for you, so it's important to try different platforms and combinations. You may see that over time, certain methods don't work like they used to, and at that point, you may want to refine your plan.
TIP: In general, well-written content gains better SEO traction than images and videos, so you'll want to design or delegate posts according to priority – more articles, fewer videos. Some planning tools and software have this format built into their systems.
Email marketing is quite profitable, netting somewhere around $40 in revenue for every $1 you spend on advertising. Weekly or monthly newsletters, product promos, discounts, loyalty programs, etc. are just a few ways to use Email marketing. Specific, targeted, automated emails (such as newsletters) can be used to retain customers who have purchased and encourage others to sign up for the latest news, specials, etc.
Social media marketing, whether you're working with Facebook or Reddit, can be used to increase authority and add value to your products or services. Marketing on social media is a great way to get your customers to share posts and broaden your customer organically, and for free!
Pay-per-click ads – or PPC ads appear on websites based on web searches and driven by keywords and phrases in your ads and on your website. This method requires a strategy in itself, so you may want to work with professionals until you get the hang of it, but they're well worth adding them to your marketing plan. Over 60% of customers will click on a paid ad as they get closer to making a purchase decision.
Blog articles on your website make a lasting impression on your audience with inspirational and educational posts. Consistent, regular, well-written blog posts will improve your SEO rank over time, meaning you could start showing up ahead of your competitors in search results. You can easily build a FAQ, write basic tutorials for your product or service, even share news about your company (anniversaries, big moves, etc.). There are companies whose business is content writing, so if writing isn't your schtick, you can find qualified writers online.
Setting the Marketing Plan into Motion
Now that you have a better idea of what your plan should look like it's time to pull everything together, either in an organized spreadsheet, or whatever tool or software you want to use. There are numerous apps to help you publish automatically, so you don't have to manage your media platforms manually. If the thought of a marketing plan still seems daunting, you may want to enlist a Virtual Assistant to help with your marketing plan.
This screenshot is from Mayple's free marketing plan tool where you can record your goals and KPIs, budget, and plan in one spreadsheet. There are plenty of others on the internet, so search for one that suits your style.
Closing
The point of starting your business is to see it through to profitability and long-term success, and the only way to absorb your portion of the market is by competing with effective advertising solutions. There is no need to reinvent the wheel with all the free and affordable tools, apps, and even virtual assistants where they're better suited to execute than you might be. The point is to get started and refine as you go. Set your goals and plan a realistic budget, find the marketing avenues that work best for you, and set your plan in motion.
Set goals and key performance indicators (KPIs).
Plan a realistic budget.
Identify the proper marketing avenues and design content yourself or find a qualified candidate.
Work your marketing plan and stick to it! Remember, the aim for success should be long-term, but the investment will be worth it. All major brands advertise because it works!
We hope you have found this article helpful. Let us know what marketing techniques work best for you.
This page may contain affiliate links, which means MyCompanyWorks may receive a commission if you make a purchase using these links.
This entry was posted on Tuesday, April 20th, 2021 at 9:30 am and is filed under Small Business Marketing, Starting A Business. You can follow any responses to this entry through the RSS 2.0 feed. You can skip to the end and leave a response. Pinging is currently not allowed.