How to Start a Delivery Business: 7 Steps to Success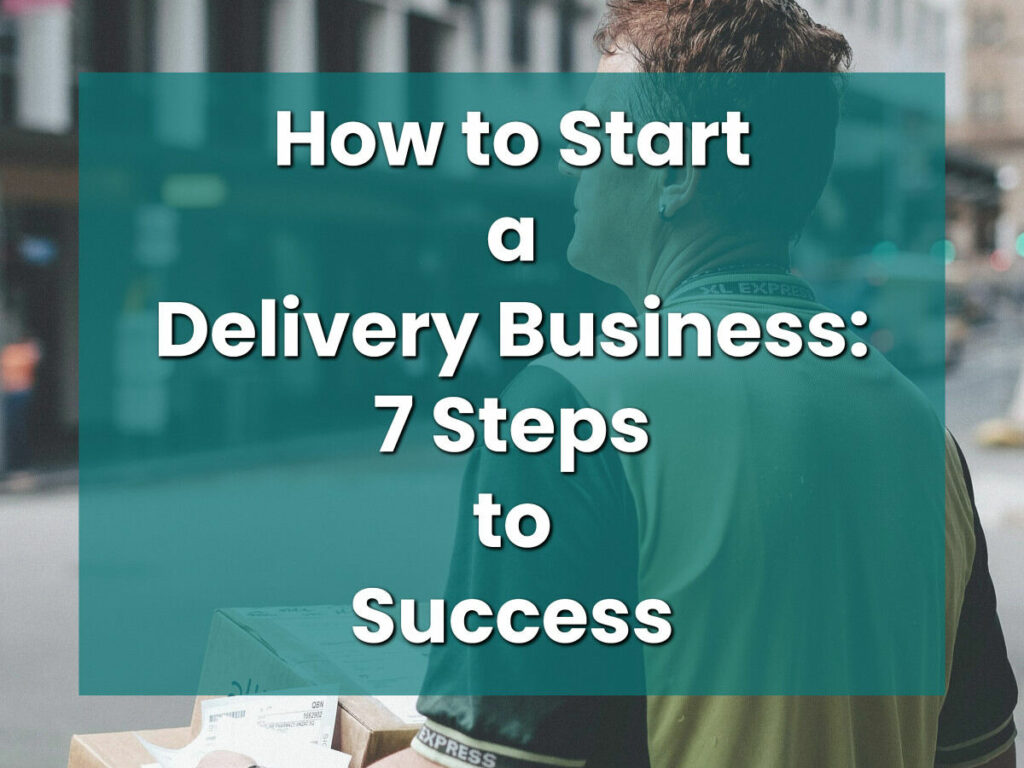 When most people think of a delivery business, companies like FedEx, UPS, and Amazon Prime Delivery come to mind. These companies are highly effective in regional, national, and international deliveries. FedEx and UPS have worked with the postal service to reduce local and residential delivery costs, but they have a lot of overhead, so many times their prices aren't always competitive.
If you like being active and working outside, a local delivery business can be both low-cost to start and profitable with the right strategy. We've done some research on how to start a delivery business to help you decide if this business model is right for you. If a courier service would satisfy your entrepreneurial itch, we can register your Limited Liability Company or Corporation anywhere in the U.S. Read our guide to find ideas and help to start a profitable delivery business.
According to IBISWorld, the delivery industry is booming, and they share the data to prove it. Services like GrubHub, UberEats, and DoorDash have all cashed in on the food delivery craze, but there are other industries that need effective courier programs. Some of the most popular delivery business ideas are:
Courier service
Gift delivery
Laundry delivery
Medical equipment, supplies, and pharmacy delivery
After-hours delivery service
Check out the full article for the top 10 delivery business ideas.
7 Steps to Start a Delivery Business
It's tempting to form an LLC (Limited Liability Company) or Corporation before planning your business, but a lot goes into launching a business successfully. Before you spend any money, you should put your ideas in writing to determine whether or not a delivery business can be profitable. Many entrepreneurs go through the planning process and realize an idea just isn't worth developing. Knowing up-front if you can make money with a delivery business will prevent wasting money.
1. Build a Business Plan
Every successful company has developed a business plan, or roadmap to define its purpose, target audience, products or services, pricing, expenses, and more. When you have your plan in writing, you can track progress and make adjustments to increase sales, instead of just guessing to find the right strategy. If you ever decide to borrow money to expand, lenders will want to see a written business plan that proves you'll be able to repay loans.
This document doesn't have to be fancy, but it should include the following elements:
Executive summary or mission statement explaining the purpose of your delivery business
Market and competitor analysis
Business objectives outlining how you will operate
Financial plan to chart growth
2. Form a Limited Liability Company (LLC) or Corporation
Limited Liability Company: There are a handful of different business structures, but the most common for startups and small businesses is the Limited Liability Company or L.L.C. The LLC business structure or entity type is a cross between a traditional corporation and a partnership. An LLC is easier to start, manage, and file for taxes than a Corporation. And as noted in the name, a limited liability company provides personal asset protection in case of legal or tax matters.
Corporation: If you plan to scale into a large company or offer delivery services in other cities and states, a Corporation may be a better solution for growth and potential investors. A traditional corporation also provides limited liability protection, but this business structure adds complexity to managing your business, so make sure to talk to a tax professional or attorney to help you make the decision.
You can also start as a sole proprietor, but you won't have any asset protection if you're sued, so it's best to form either an LLC or Corporation to protect your personal assets.
TIP: Submit form 2553 to establish Small Business tax status with the IRS
We can form an LLC or Corporation for your delivery business
Registered Agent Service: Every business must appoint a registered agent to accept official government and business mail. Don't be fooled by "free" registered agent services! Many so-called free services are only for the first year, then you're charged hundreds of dollars each following year. If you're available during regular business hours, you can be your own registered agent. We can also provide commercial registered agent service at a fraction of the cost of other providers. Simply add Registered Agent service to your formation order, and we'll do the rest.
Choose a Unique Delivery Business Name
In order to set your business apart, it's critical to find a name that defines your business, is easy to pronounce and remember, and most importantly, it's not already being used. Naming your company with the same or similar name as another business can create confusion with legal and business authorities. The last thing you need is to be named in someone else's lawsuit or IRS dispute. You can largely avoid this hassle by following the steps below to create a one-of-a-kind business name.
Search the Internet, business sites, and the US Patent and Trademark Office for proposed business names. Make sure to use various spellings, and even misspellings to make sure you find all similar company names. Once you have cleared your name, you can check for social media and domain availability.
Start Your Delivery Business in Any State (and D.C.)
3. Register for Taxes, Licenses, and Permits
All businesses must register in the state where they operate. Depending on your state, you may have to register for local, county, and/or state taxation. You may also have to pay state franchise taxes. You'll also need to apply for an EIN, or Employer Identification Number, even if you don't have employees. If you don't obtain an EIN, you'll be forced to use your social security number on all official documents. Using an EIN reduces the risk of personal identity theft. You'll need to contact local and state authorities for delivery business regulations. We can apply for your EIN with any LLC or Corporation package.
You'll also need to apply for the proper business licenses and permits. Doing your own business research can be complex, and you can have your business shut down without the right licensing. Our business license partners will do all the research and tell you exactly which licenses and permits are required.
There may be additional requirements if you intend to deliver across state lines, so check with both your state and the states you intend to serve for more information.
4. Open Business Bank and Credit Accounts
The only way to keep personal and business assets separate is to manage them in separate bank and credit card accounts. When you receive completed LLC or Corporation documents, you can establish an account in the name of your business. Call your local bank and search the Internet to find out about banking and credit solutions that would work for your delivery business. Requirements will vary, but you can expect to provide the following documents to verify your identity and business status.
Valid government identification
Completed business organizational documents
Signed (and sometimes notarized) business resolution proving you have authority to open business accounts.
You may not be able to apply for business credit right away, but you can build your credit profile by paying your bills, payroll, taxes, and other expenses on time.
TIP: You can use a personal credit card until your business qualifies for credit, but make sure to charge business items only to prevent tax confusion down the road.
Funding and Credit Resources
Fast Ways to Fund a Delivery Business | The Startups Made Simple Plan | Learn How to Build Business Credit
5. Set up Accounting for your Delivery Service
You don't have to be a tax pro to run business accounting software, but you do need to keep official records for tax and legal purposes. The only way to know if you're really making money is to track all your income and expenses. There are loads of affordable software options, and it can be overwhelming to research and know which solutions work best. In our experience, Quickbooks Online has proven to be a simple, affordable, and effective accounting solution. They offer 24/7 support with upgraded packages, but you can search Google and YouTube to get help, tips, and tricks for free.
You can also check out other recommended accounting software in our Vendor Network. MyCompanyWorks clients can take advantage of exclusive pricing and discounts from recommended partners.
6. Start Business Insurance Policies
A delivery business needs insurance to cover expenses related to employee injuries, lawsuits, vehicle collisions, and more. There are several types of business insurance, the most common being:
Business owner(s) policy – bundles general liability and property insurance into one policy, usually for a reduced premium
General liability policy – covers expenses and lawsuits related to consumer losses
Workers' compensation – covers a portion of wages for an employee who is injured on the job
There may be other policies required in your state, but you can get a comprehensive, free quote from our business insurance partners.
7. Develop Branding and Market Your Business
Now that you have a solid business name, you can design a catchy logo, color scheme, and theme to stand out against competitors. You want to make sure your brand is noticeable and memorable, so take some time to research best practices for logo design, color schemes, etc. to build an eye-popping business identity. Incorporate your brand into your website, social media accounts, delivery vehicle, and anywhere else you can advertise.
You may even be able to promote your business through customers who use your service. If a client has a storefront, ask about placing a sign with a QR code in their window. If they have a website, they can post affiliate links from various marketing platforms to refer business.
TIP: Create an additional revenue stream by paying referral commissions to advertisers. Learn more about affiliate marketing.
Create logos and marketing materials free with Canva
Set up a business phone line, and launch your website, email, and social media accounts. Our custom website package is very affordable and extremely easy to use. There are dozens of templates you can customize and support if you need help with setup. Choose a domain name that fits your business, set up email, and even sell delivery services online with our simple e-commerce solution. You can add a merchant account like Stripe or PayPal within the website, and you can start accepting payments immediately.
TIP: Add a free scheduler to your website to make scheduling deliveries easy for customers.
Search Engine Optimization (SEO) for the Delivery Business
The cheapest advertising you can buy is your own! Even if you're not a writer, you can learn how to optimize your website and content to climb to the top of Internet search results. 70% of all consumers look online for services, so you can get a lot of business just by posting consistent and relevant content. Make sure your share your content on social media channels so followers can share with their networks.
Check out competitor websites for ideas and put them to practice. HubSpot offers loads of free advice, tools, and templates to help you learn about writing with keywords and attracting qualified leads online.
Explore Profitable Business Ideas
Start a Delivery Business Today
Major delivery companies are well-known for parcel delivery, but there are other needs for delivery services. A local delivery business can be beneficial and profitable with a solution for the problem, a solid business plan, an official business, and a competitive website. We've shared 7 steps to start your delivery business, and we're here to help! You can form your own Limited Liability Company or Corporation by following our Startup Guides, or save a ton of time and money with a business package from MyCompanyWorks. We have served tens of thousands of entrepreneurs since 2001, so we're able to form your delivery business fast and free of the hassle of doing it yourself.
If a courier service is right for you, we can start working on your order in as little as one business day. Read verified reviews and our 100% Satisfaction Guarantee to find out why so many startups start with MyCompanyWorks.
This page may contain affiliate links, which means MyCompanyWorks may receive a commission if you make a purchase using these links.
This entry was posted on Thursday, August 25th, 2022 at 1:10 pm and is filed under Starting A Business, New Business Ideas. You can follow any responses to this entry through the RSS 2.0 feed. You can skip to the end and leave a response. Pinging is currently not allowed.