How to Transfer Property to Your LLC or Corporation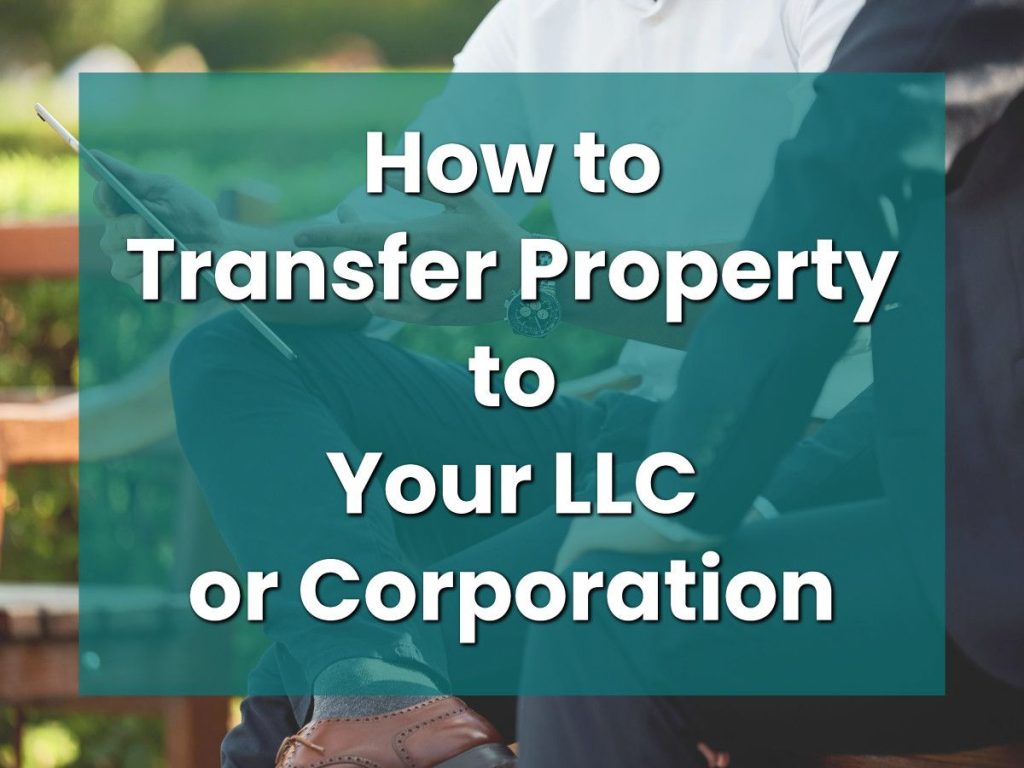 Transferring real property, or other assets, into an LLC or corporation can help you protect yourself from personal liability. This is typically done with property you anticipate having another party involved with in some way, such as a rental property. Transferring property can help protect you from personal legal liability.

The process for transferring property to your LLC is similar to selling your property to a another party. You'll just need to completely transfer ownership to the corporation instead of an individual, like in the event of a sale. It's a simple three step process that we detail below.
Step 1: Form an LLC or Corporation
You can't transfer your real estate property, or any other personal property, into your LLC or corporation until you've actually formed a new legal entity. This can be a complicated process if you're not familiar with the proper documentation or if you're not up to speed with your state's rules and regulations. Typically you'll need to register a business name and file the LLC or corporation paperwork with your secretary of state's office.
NOTE: For the remainder of this article, when we refer to an LLC, the same concept applies to a corporation.
If you haven't completed this process before then you'll want someone familiar with the formation documents involved, especially if you have any partners or other members of your LLC. You don't want to lose any of your own rights to the property because you weren't sure how to structure the LLC or what basic clauses you needed in your partnership paperwork.

Using an experienced company,like ours that has completed tens of thousands of business formations, is important to make sure you're completing the LLC formation process correctly. Getting an LLC formed and filed isn't necessarily difficult but it does require a certain level of expertise to make sure nothing is missed that could hurt you or your business later.
Step 2: Complete a Quitclaim Deed
At this point you may want to consult with an attorney to make sure you complete the right deed for your personal property transfer. If you're transferring real property than most of the time you'll want a quitclaim deed that shows this transfer of ownership. When executed, a quitclaim deed transfers any interest the grantor has in the property to a grantee. In this case, you will be the grantor and your LLC or corporation will be the grantee.

There may be certain laws surrounding compensation for the transfer in your state, which is another reason you may want to consult an attorney. The laws would be what compensation is required when transferring property from one party to another. There also could be a transfer tax, depending on your state, if there is no compensation paid from the LLC for the property.
Step 3: Record Your Quitclaim Deed
In order to receive full legal protection for your personal assets when you transfer the property to your LLC you'll need to record the deed at your local city or county clerk's office. This recording creates a public record of the property transferring from you to the LLC, so the world is put on notice that you no longer own it and can't be held responsible for anything that happens with it.

Recording the deed requires either going down to your local clerk's office or mailing the paperwork, depending on the rules of your state, and then paying a nominal fee. This is an important step that must be done because otherwise there is no notice to third-parties that may have a legal dispute with the owner of the property in the future, which is a legal requirement to pass legal liability to a new owner.
Other Steps to Take When Transferring Property to Your LLC or Corporation
While the required steps to transfer property to an LLC don't make for a long list, there may be more things you need to consider and take care of that depend on your situation. Not every single person looking to transfer property to a legal entity will need to complete these tasks, but they should be understood to make sure they aren't a necessary step for your process.

Additional steps you should keep in mind if you decide to transfer personal assets to an LLC include:

Change Any Property Leases: If your property is being rented out, and you're already under contract with a tenant, then you need to make sure you change all legal documents and leases to note who now owns the property (the LLC). In fact, you may want to just get brand new leases signed that are in the name of your LLC instead of yourself.


Notify Your Lender: If you have a mortgage on the property then it is likely that you have some language in your agreement that stipulates a requirement of you notifying them when ownership changes. This could cause a rate increase, but you always want to make sure you're being compliant with previous agreements.


Obtain a Tax ID Number: You may not have to obtain a tax id number, but chances are that if you're wanting to move property into an LLC then you're likely doing something that requires this to happen. If your LLC has more than one owner, if you have employees, or if you meet other requirements that vary by state then you'll need to get this tax ID number when you create your LLC.


Open a Business Bank Account: Opening a business bank account will help you further separate your personal assets from the assets in your LLC. If you move personal assets into an LLC to protect yourself legally then you won't want to put that at risk by mingling your personal and business funds into a single account. Instead, open a business bank account to keep it all separate and keep your other personal assets safe from anything that happens with the LLC.
Pros & Cons of Moving Property Into an LLC
There are things you need to keep in mind when you decide to transfer personal assets to an LLC. For example, your actions may result in certain tax consequences, which we'll summarize below. While the legal protections are nice, it's also important to note that you may end up hurting yourself financially if you decide to transfer a property you currently have a mortgage on. We detail the most important pros and cons of transferring personal property into an LLC below.
Pros of Moving Property Into an LLC
The pros for moving property into an LLC include:

Personal Liability Protection: If you're dealing with another party with your property, like having a renter, then it makes a lot of sense to use an LLC or corporation to shield your personal assets from anything that may happen with the property. This way if there is a lawsuit later over an event on the property, like an accident, then no one will hopefully be able to come after your personal assets, like your personal home, for damages.


Protect Your Property From Your Property: If you have multiple properties that you're renting out then it is a benefit to keep each one in a separate LLC or corporation in order to shield each one from potential liability of the others.


Tax Advantages: There can be certain tax advantages to owning real property in an LLC and running any money making activities with that property as a business. This is something you should consult a CPA on to determine what could be the most beneficial to you.


Better Defines Partnerships: If the property you're moving is jointly owned by more than just yourself, then moving it to a multi-member LLC or corporation is beneficial. Not only can there be tax benefits this way but it also clearly defines the ownership and management responsibilities within the legal entity. This makes your partnership much more clean and easy to navigate, especially if anything goes south later.
Cons of Moving Property Into an LLC
The cons of moving property into an LLC include:

Tax Consequences: While there can be certain tax benefits, there can also be certain tax consequences of moving property. You may incur a delayed tax consequence or if multiple people own the property then you could trigger a tax event for someone else. Make sure you speak with a CPA to fully understand how this could help or hurt you from a tax standpoint, and consult with any partners to make sure it works for them.


Mortgage Rates Could Increase: Many owners of rental property will get a good rate on their mortgage by purchasing the property as an individual. If you later transfer the ownership over to a business, then you would likely no longer qualify for the much lower rates your lending institution gives to individuals. You probably have a legal obligation to share this transfer to your lender, but when they find out it could cost you a lot of money by your rate being increased.


Insurance Costs Could Rise: One thing that many people don't consider when transferring property to an LLC or corporation is insurance. If the ownership of your property changes to a business then your insurance carrier could make you change any current personal insurance policy to a commercial policy. These commercial policies typically have much higher premiums, because of the nature of businesses to litigate more frequently than individuals.
Getting Started
As we mentioned above, the first step to transferring property to an LLC or Corporation is to register your LLC or corporation. You can do this today by letting us help. It's a simple three step process where you select your company type and state, you fill out a simple online form, and we send you back all of your paperwork. Get started today so you can realize the legal protection of an LLC with your property!

This entry was posted on Thursday, June 20th, 2019 at 2:53 pm and is filed under Incorporation, Corporate/LLC Compliance, Limited Liability Company. You can follow any responses to this entry through the RSS 2.0 feed. You can skip to the end and leave a response. Pinging is currently not allowed.