How to Start a Candle Business Fast: Pro Tips and Startup Guide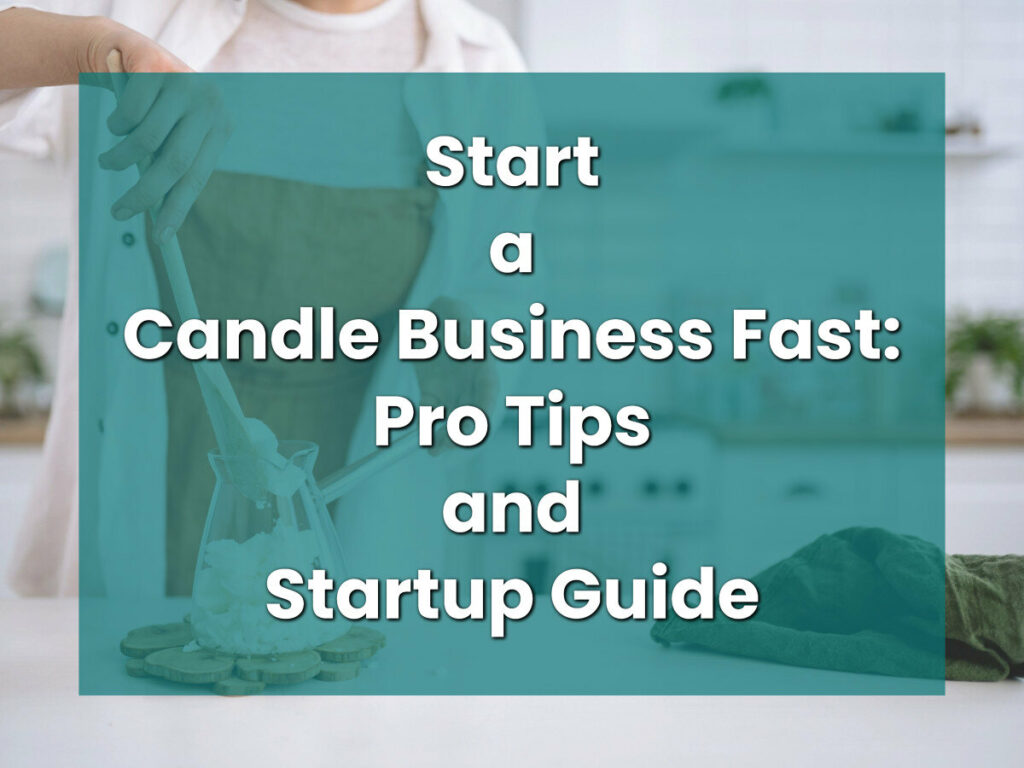 You can develop your love for candles into a fun side hustle, or even a full-time business. With the right plan, products, and marketing, you may be able to start a candle business right in your home. We're covering the best candle-making tips, where to buy supplies, and how to register your company in the state where you want to operate.
Since 2001, MyCompanyWorks has formed tens of thousands of Limited Liability Companies (LLCs), Corporations, and DBAs. Read reviews and compare us to other formation companies to see why so many startups choose our services. Check out our guide to decide if the candle biz suits your interests, then order a business startup package online. We can start working on your order with just a few details, and you can track progress in your free account dashboard. Let's get started!
Best Practices to Start a Candle Business
So you like candles – the shapes, the wicks, the scents, and the glow they add to a room. You're not alone. According to Grand View Research, the candle market was valued at about $533 million in 2020 and is expected to climb steadily. Consumers buy candles for gifts, as home accents, and for ambient, or even emergency lighting. Candles have taken on many shapes and forms since their origins, but the most common type is the wax and wick candle we use today.
If you want to start a candle business, it's a great idea, but only if it works for you. Anyone who's thinking about going into business should consider these questions before you take the leap.
Are you cut out for business?
Starting a new business can be a very exciting and rewarding experience, but it's not for the faint of heart. Entrepreneurs usually work longer hours than people with regular jobs, but it's the investment we make to build a business and be our own bosses. That being said, you can save a lot of time, money, and energy by asking yourself how running a startup would affect your work/life balance, relationships, and free time. If you decide you can manage the extra work and effort, you can move on to answering these questions and developing a business plan.
5 questions every entrepreneur should ask:
What is the market demand for my product or service?
Who are my potential customers?
Who are my competitors?
How is my product or service different from competitors?
How do I raise startup money?
You can track answers with solutions on a spreadsheet, or start writing a business plan to see how a candle company can be profitable (more on that below). There are lots of free business planning templates that you can customize for your candle company. Read our business planning guide to learn everything you need to establish your candle business plan.
Candle Business Startup Tips
Developing the best business strategy involves products or services, pricing, and overall value to customers. The key to a winning strategy is to combine these factors in a way that separates your candles from the competition. Most candles are made with similar components, but you'll want to create a style and brand that's unique and affordable to stand out from other candle makers. Consider styles or themes that would appeal to your audience, either locally or online. You can also check out candle trends to build a one-of-a-kind brand.
1. Study the market
You may already have themes and styles in mind, but consumers think the best products are the ones that are designed for them. Take some time to research trends, classic styles, and especially, what your competitors are selling. Any business that sells candles is a potential competitor, so scan their stores and sites to research products and pricing. Take into account your target audience, locale or region, and styles that sell best in your area. If you can design your candles around top-selling trends and price them better than other stores, you can build a candle shop to win over competitors' clients.
2. Buy quality supplies
Candle making itself isn't that difficult, but the types of materials used can make or break your design. Cheap waxes, fragrances, wicks, and holders are a dime a dozen, and most folks agree, they stink. There's nothing more disappointing than to buy a good-smelling candle, only to light it and find that the fragrance has been replaced by the smell of burning wax or a budget wick. Another big turn-off for candle lovers is the heavy black smoke some candles emit, which both smells bad and stains walls and ceilings.
Designing candles using high-quality materials is a great way to win customers who want better products at a great price. Consider materials like blown or stained glass containers, natural wicks, soy wax, and perfume-quality fragrance oils to add value to your candles. Listing the types of materials in product descriptions can be a great way to promote high-end candles to discerning shoppers. Check out wholesalers like CandleScience to find quality candle products at affordable prices.
TIP: Sign up for your favorite suppliers' newsletters and visit stores regularly to get the best deals and maximize profits!
3. Experiment and document your steps
Taking notes can save a ton of time and waste. Candle mixtures can be documented just like a cooking recipe, so include measurements, temperatures, timing, tricks you learn, and materials used. Once you have perfected your recipes, you can create products on a larger scale, while keeping consistency across your brand.
4. Be patient!
Practice does make perfect, but timing matters when it comes to developing and pouring a superior candle. It's important to test various waxes, wicks, scents, shapes, and more to create a stand-out product line. You may find that some styles just don't sell as well as others, but that doesn't mean you're failing. If you can learn from feedback and competitors, you can refine your line until it appeals to your overall market.
Many startups begin with a basic product line, then add or rotate new products as they learn and business expands. So don't be afraid to start small. Use your research to grow while building a loyal customer base for your classic styles.
Free Candle Making Resources
Become a Master Candle Maker | Candle Scents: Learn about Hot Throw and Cold Throw
Make Your Candle Business Official
Now that you have a solid plan and your products perfected, you can form a Limited Liability Company or Corporation to start a legitimate candle business. Many entrepreneurs choose their home state to form a company, but there are some instances where registering in another state may benefit your business. Starting a business in the wrong state can cost money and create unnecessary headaches. If you need help deciding which state and what business type is right for you, you can contact one of our accounting partners for a consultation.
Start your business plan
A business plan will change with time, but starting one before you do anything else is one of the most important steps for any successful startup. A proper business plan will function as a roadmap so you can see where your strategy works, and where to make adjustments. Your plan can be as simple or as complex as needed, but it needs to include the following information to give you (and potential investors) a clear picture of your strategy to grow profits.
A mission statement or executive summary that explains your vision, purpose, and plan of execution
An analysis of your target market and competitors
Business objectives to define how you will manage your company
A financial plan including costs and pricing to chart your progress
Your business plan should also include the following information:
List of scents, materials, and packaging options
Types of products used in your candles – beeswax, soy, wooden wicks, etc.
Net cost to produce each candle
Pricing for each candle being sold
List of suppliers for wholesale materials and packaging supplies (optional, but ideal to keep with other important business information)
Learn how to write an effective business plan
Fund your candle business
It's hard to start any business with no money, but there are lots of ways to raise cash to launch your business. Before you ask others to invest, take inventory of your personal finances like savings, home equity, credit cards, and retirement funds. You may have enough to start without borrowing a dime, which means you don't have to depend on friends, family, or professional investors. Refer to your business plan to determine how much cash you'll need to start.
If you do need to borrow money, your family and friends may be willing to help. According to Debt.org, billions of dollars are loaned to startups by friends and relatives each year. If you do borrow from your inner circle, the lenders should be treated as you would any professional lender. You should have a signed contract that outlines the terms, so everyone knows when loans will be repaid. You can read Debt.org's guide to help your borrow from friends and relatives.
Borrowing money from family and friends may not be an option, but you can still raise cash by crowdfunding or seeking out angel investors. Crowdfunding platforms like Kickstarter and IndieGoGo are easy to set up and manage. Each platform has its own rules and best practices, so study each platform to find which one would work best for you.
Angel investors are usually wealthy individuals who invest in small businesses for some kind of return, like interest or a cut of your business. You can search "angel investors" on the Internet to find private lenders in your area.
Grants can be a challenge, but you may be able to find free money if you have the patience to do research and complete detailed applications. Women and minority-owned businesses can qualify for additional grant funding. Nerdwallet has a great guide on where to find grant money.
NOTE: Some professional investors and organizations require an official business registration before they'll loan you money. In that event, you would need to form a Limited Liability Company (LLC) or Corporation to borrow funds. More on how below.
More Candle Business Funding Resources
Pick a great name for your candle company
Before you can register your company, it's important to research and create a unique name to separate yourself from other companies and develop a winning brand. An effective name takes some research, but you can follow these steps to create a unique name fast.
Find words that describe your business and mission. Using the word 'candle' in your name is ideal, but you don't have to limit your name. Words that define your products, like 'soy', 'bees', 'wax', 'wicks', 'flame', etc. can be used to tell customers what you sell before they order online or walk into your storefront.
Assemble 2-3 word combinations to test on family and friends. Pretend to answer the phone with a greeting that uses your name(s). If it's easy to say, remember, and conveys your purpose, you can take the next step to screen your business name.
Scan the Internet, state business sites, and the US Patent and Trademark Office for proposed business names. Make sure to check various spellings, and even misspellings to find similar names. Once you have a name that isn't in use in your state, on patents, or trademarks, you can register your business.
Learn About Business Branding
Name, Logo, and Trademark | How to Name a Candle Shop | Free and Cheap Logo Designs
Form a Limited Liability Company or Corporation
All US businesses must register with the state where they operate. There are several business types, but the most common for startups is the Limited Liability Company. As the name states, a Limited Liability Company or LLC provides limited liability protection to its owners (called managers or members). It's a separate entity from its owner(s), so only assets that belong to the company can be seized in a tax or legal action.
LLCs also offer what is called single or pass-through taxation, so the company itself doesn't file tax returns or pay taxes. Instead, expenses, profits, and losses are recorded on individual owner tax returns. Pass-through taxation means that the business is only taxed once on personal tax returns, and not again on business tax returns.
The second most popular business type is the Corporation. Traditional C-Corporations are usually only formed by large companies with lots of employees and/or assets. A Corporation is a separate entity from its owners, but this business type is required to file a corporate tax return, in addition to owners filing personal tax returns. Because both the corporation and owners are taxed, this model is subject to "double taxation", which can cost more money to operate than an LLC.
TIP: Make sure to register for S-Corporation, or Small Business status to lower taxes. LLCs can be recognized by the IRS as an S-Corp with a filed 2553 form.
Contact a Tax Pro to help you decide on an LLC or Corporation
Request an EIN (Employer Identification Number)
LLCs and Corporations require EINs, even if you don't hire employees. An EIN is like a social security number for a company, so you'll need one for business, tax, employment, and legal documents. You can apply on the IRS website, or add an EIN to your LLC or Corporation order and we'll apply for you.
NOTE: International citizens must apply for an EIN by phone.
Open a business bank account
You can open a business account with one of our banking partners when you order an LLC or Corporation package. You can also check local and online banks to see which services would work best for a candle shop. Either way, opening a business bank account is necessary if you want to separate business and personal funds, and you should to prevent tax or legal confusion. Make sure to add your bank account to your e-commerce site during setup (below).
Register for taxes and apply for licenses and permits
Depending on your state, you may not have to charge sales tax (requirements vary for selling online). But you still need to register with your state's taxation department. Some states charge franchise tax, which means you'll have to register with that agency as well. You can contact your Secretary of State or Division of Corporations to find specific tax requirements in your state.
You'll also need to apply for business licenses and permits to run your company legally. Licenses and permits may be required at the local, county, and state levels, so make sure to do your homework and apply for the documents that apply to your candle business. The Small Business Administration has a great guide on business license requirements by state.
You can also hire our licensing partners to do all your research and recommend which permits and licenses are needed in your state. The cost is nominal and will free you up to work on other aspects of your company.
Get business insurance
Operating without insurance can cost you your entire business if you're sued. It's worth a few hundred bucks a year to insure your business, and our insurance partners offer free quotes for MyCompanyWorks clients. Your requirements may vary, but common business policies include:
Business Owner Policy (combined general liability and property policies)
General Liability Policy
Property Insurance
Workers' Compensation Insurance
Set up an online or brick-and-mortar candle shop (or both!)
If you're going to open a physical store, be sure to find a location where your target audience shops. You can branch out by selling at farmers' markets, and craft fairs. You may even be able to contact local businesses to ask if you can sell your candles in their storefronts.
Commercial real estate professionals can help you find demographics (market data), traffic, and the average household income for any location. They may even be able to help you negotiate the terms of your lease. These factors are key to running a successful candle shop, so make sure you're using data, not emotion to decide on the best location.
Find commercial real estate experts in your area
Whether or not you open a storefront, candles are a hot seller on sites like Etsy, eBay, and Amazon. You can set up stores on any (or all) of those sites to start selling fast. 70% of all consumers look to the Internet to find businesses, so every business should have an active website. Think of a website like a modern Yellow Pages ad. Even if you're not selling candles on your site, it should at least be easy to navigate and have current contact information so customers can find your store or products.
An e-commerce site and selling platforms are fairly simple to set up, so you don't have to be a tech wiz to get started. Our guides for selling hand-crafted items, selling on Amazon, and selling on Etsy will help you open accounts quickly. We also offer a custom website with a domain and email to launch a website fast.
Our e-commerce package has lots of fun templates and is easy to use. You can even set up a Stripe, PayPal, or other merchant accounts within your website to start accepting payments online. You can add an e-commerce or regular website to your LLC or Corporation order.
TIP: Shoppers don't like grainy pictures. Use high-quality images to attract customers and increase sales.
Facebook (Meta), Instagram, TikTok, and Twitter
Social media is a great channel to start marketing your candles to the masses. Cross-promote each profile across all accounts to increase exposure, and make sure to share with family and friends! Social media marketing may not bring immediate sales, but sharing posts about your mission, products, sales, and updates will help to grow brand awareness. If you post consistent content, you may begin to generate sales, and even find other ways to create revenue from your website.
All the major social media channels offer business solutions for a fee, but you can start free accounts to establish your brand. Sign up using the links below:
Add social media links to your website to get the best exposure.
E-Commerce and Marketing Guides
5 Steps to Open a Shop Online | Make Money with Affiliate Marketing | Guide to Selling Handmade Candles (and other goods)
Hire Employees (Optional)
Skip this step if you're working solo.
If you need to hire help, you can post an ad on sites like Indeed or Glassdoor to find a team fast. Before you put out your Help Wanted sign, make sure to write job descriptions that describe the job, requirements, restrictions, and other factors that would affect potential candidates. You can save a ton of time, training, and turnover by posting job ads that clearly define your expectations. You may even want to write an employee handbook to cover company policies, culture, job descriptions, and overall expectations. Indeed has a great guide with free templates to help you write your handbook.
Learn how to ask the right interview questions
Set up your store(s) and social media accounts
If you're opening a storefront, it's time to move in and stock the shelves. Search online and visit local retail shops to get display and layout ideas. You can spend a lot of money on aesthetics, but the best store designs are clean, easy to navigate and avoid bottlenecks at the door and register. You may be able to find shelving and merchandising displays at local auctions or community sales to save some money. Ikea carries all kinds of affordable shelving and displays, and they'll ship right to your store, which saves you from having to pick up your order.
Setting up an e-commerce store is easy and necessary if you're going to grab the most traffic online. More than 2/3 of all shoppers check for websites before buying from businesses. If they don't find a web presence for your candle shop, they may not shop at your store, even if you're the closest one in town. Starting a website is the most affordable advertising you can buy. It doesn't take much time to manage and most purchasing processes are automated, so all you have to do is pack and ship orders.
Our comprehensive web solutions provide a domain and email to coordinate with your business name. You also have 24/7 access to a custom website, anywhere there's an internet connection. So managing inventory, running promotions, and posting updates are fast and simple. Set up a bank account with your LLC or Corporation order, then add an account like PayPal or Stripe right on your website to start accepting payments.
Order a domain, email, and e-commerce package
Market your candle shop
If you have used this guide to start your business, it's time to announce your candles are for sale! A local shop can spread the word by posting signs or flyers in other storefronts, and in community spaces like local coffee shops, book stores, and eateries. You could even start a referral program and pay commissions to advertisers when sales come from flyers with special QR codes.
Research local farmer's markets, craft shows, and other venues that have space for pop-up stores. These markets are great places to find buyers who are concerned with quality and uniqueness. Showcasing your product outside of your store can draw business from local and regional residents, and even curious visitors.
Once your website is set up, you can start a blog and write posts about anything related to candles; how to trim wicks, the best ways to store, seasonal fragrances, the list is only limited by your imagination. If you're not a tech wiz, it's ok! If you have made it this far in our guide, you have what it takes to write good content. There are loads of free hubs to learn search engine optimization (SEO), templates to create articles, and webinars to give you a solid foundation in content marketing.
Other online candle business ideas
Sell online courses: Turn your profession into an online course! If you have unique tools, tips, or practices to create professional candles, you can generate additional income by selling courses online. You've done all the hard work of experimenting and perfecting your product, why not make extra cash from your expertise? You don't have to give away your trade secrets, but you just might be able to make money from online courses like this one from Udemy.
Become a candle material supplier: Obviously buying in bulk saves money, but what if you could order in larger quantities and re-sell what you don't need? You can research how to become a supplier, then crunch the numbers and maybe even put together a quick business plan to see if selling whole candle supplies can add income to your bottom line.
Start a Candle Business Online
Candles are big business, and there doesn't seem to be any shortage of demand in the future. If you decide you're cut out to be an entrepreneur, you can start a successful business with a solid plan, the right supplies, some money for materials, and a registered LLC or Corporation. You can use our state formation guides to register a business or save time and money with a startup package from MyCompanyWorks. Make sure to add your website to any package to launch your web presence fast and hassle-free.
You'll need to register for taxes, licenses, and permits, and get business insurance before you can start selling. You'll also need to open a bank account and set up a merchant account to accept payment online. Our business partners can research licenses, provide business insurance quotes, and open a bank account for you.
If you need to hire help, you can post job ads on sites like Indeed or Glassdoor to find qualified candidates. Writing out job descriptions and an employee handbook will reduce wasted interviews, turnover, and training time. Make sure you have your completed LLC or Corporation paperwork, EIN, tax registrations, and licenses in place before you hire staff.
Once your business is official, you can set up your website, email, and social media accounts to start promoting your new business and products. If you're running a local store, reach out to other businesses to ask about advertising opportunities, and check craft markets and pop-up venues to introduce your candle line. Don't forget to ask if advertisers are interested in making money from referrals, then issue flyers with custom QR codes to track referrals.
Learn some SEO basics, then start posting relevant content that adds value to your candles. Share your posts on social media, and with family and friends to increase brand awareness and attract new customers.
You may also be able to expand your business with affiliate marketing, selling courses online, and/or becoming a candle material wholesale supplier. These are great ways to create additional revenue with your existing business. Check out our blog for other ideas that may work with your candle business.
Since 2001, we have formed tens of thousands of new companies and offer all the help and resources needed to run and manage a business. Our startup packages include more than other services, and cost less to get started. We'll start working on your LLC or Corporation, usually within a business day, and you can see the results in your online dashboard (free with every order). Check out why thousands of entrepreneurs have left 5-star reviews and come back to us when they form new startups. Start your candle business online or contact our support team for more information.
This page may contain affiliate links, which means MyCompanyWorks may receive a commission if you make a purchase using these links.
This entry was posted on Tuesday, August 30th, 2022 at 11:18 am and is filed under Starting A Business, New Business Ideas. You can follow any responses to this entry through the RSS 2.0 feed. You can skip to the end and leave a response. Pinging is currently not allowed.