Start an LLC for Instacart to Protect Your Personal Assets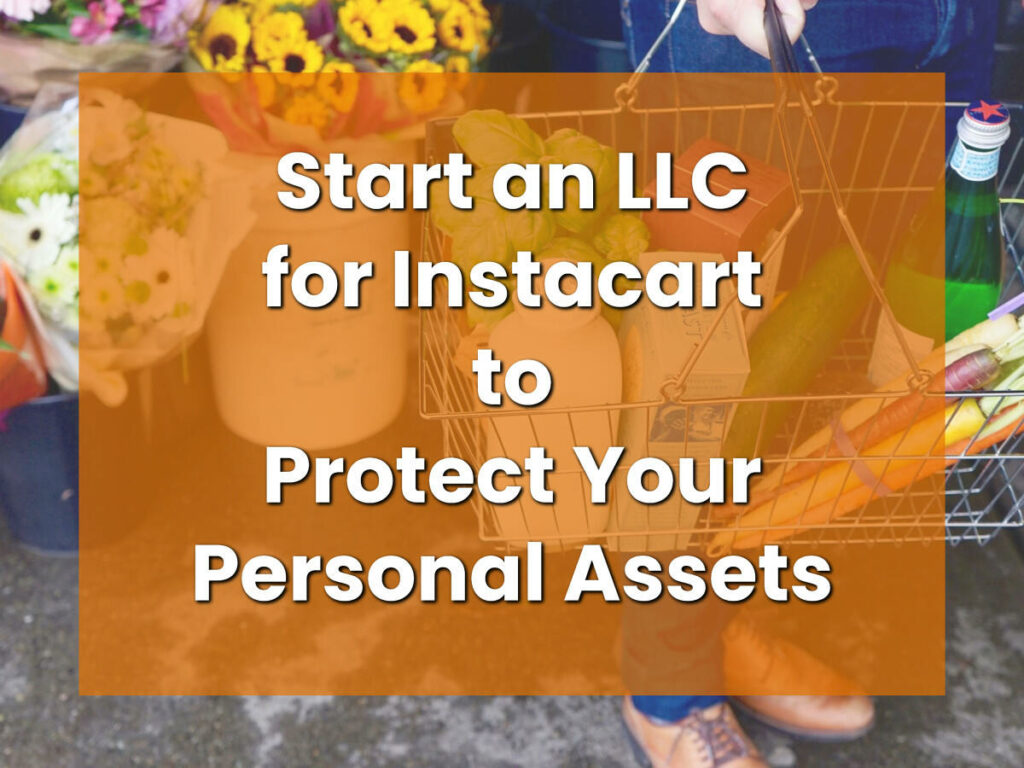 Why Start an LLC for Instacart?
We've read through various online communities and have found some folks discouraging Instacart shoppers from registering a business. Some claim overkill, unnecessary costs, and government oversight. When you're trying to make money fast, it's tempting to sign up for Instacart and just start shopping as an individual. Instacart was responsible for 45% of the entire US grocery delivery industry in 2021, and there's plenty of opportunity to cash in as a personal shopper.
The problem with shopping as an individual – called a Sole Proprietor is that you can't protect your personal assets from being seized to satisfy a lawsuit. You may think you'd never get sued, but it takes one unhappy customer with enough time and money to ruin your day – and possibly wipe out your personal finances. Every individual and business can be sued for various reasons, but there's only one way to protect your business and separate your personal assets from potential legal matters. Start a Limited Liability Company (LLC) for Instacart.
This guide covers tax and legal problems for Instacart Full-Service shoppers (contractors, not employees), the benefits of making money under an LLC, and how to sign up and get paid as a business. If you decide that an Instacart business is right for you, we'll also have helpful links and resources to start your company later in this article. Learn how to protect your personal assets while shopping for Instacart. Let's go!
Shopping for Instacart as a Sole Proprietor
Like most gig work companies, Instacart allows you to start shopping with a social security number and commercial vehicle insurance. You can sign up through their app and start taking orders almost immediately, as long as new shoppers are being accepted in your area. You have to download the app to find out if there's availability near you.
Once you earn income, the IRS considers you a Sole Proprietor, which means you're a business owner. So you can start shopping almost right away, but there's nothing to protect you from a legal claim without a registered business. If you're ever sued, you can literally be taken for everything you own. Not only are you out of business, but you may also be out of a car, home, and any personal savings.
Benefits of Starting an Instacart LLC
1. An LLC is a separate entity
When you register a business, you're basically forming another "person" that is a separate entity. So if you are sued, your business should be named, not you personally. Personal assets cannot be considered when settling business legal matters, which protects you from being completely wiped out.
2. Limited Liability Companies have lower tax burdens
With an LLC, you can also reduce your tax burden. You're still responsible for self-employment tax, but the LLC itself will not have to file additional tax returns, which can save quite a bit of money. LLCs are generally taxed at lower rates than Sole Proprietorships and Corporations.
3. LLCs are easier and more flexible to manage
This business structure has fewer reporting requirements and is easier to change and remove owners than traditional Corporations. Traditional Corps are taxed at both the company and individual levels, which means they ultimately pay double the tax as an LLC.
How to Start an LLC for Instacart
If you want Instacart to pay you as a business, you'll want to register your company – either an LLC or a Corporation before you sign up. The traditional Corporation setup is usually more than a small business needs, and they are more heavily regulated than LLCs. Most entrepreneurs choose the LLC (Limited Liability Company) structure because it's easier to manage and costs less to maintain on a yearly basis.
TIP: Elect S-Chapter, or Small Business status with the IRS to lower your tax rate. Even though the designation is called an "S-Corporation" or S-Corp for short, LLCs can elect the Small Business status by completing form 2553 and submitting it to the IRS.
Start a business plan – it can be simple, but a solid plan will show you if your [gig] business can be profitable before you spend any money.
Pick a great name to stand out from competitors – 2-3 catchy and memorable words that describe your products or services.
Form a company – either a Limited Liability Company (LLC) or Corporation.
Open a business bank account to collect funds and pay yourself.- check with your local bank or with our banking partners to find the best banking solutions for your business.
Sign up with Instacart using your business name and EIN (employer identification number).
IMPORTANT! Instacart may tell you over the phone or via chat that you cannot register as an LLC or Corporation. It isn't true! While you can't sign up through the app as a business, you can sign up as a business by emailing a completed W9 form and Articles of Organization (for LLCs) or Incorporation (for Corporations) to [email protected]. Their support team will be able to register you under your business name.
Pay yourself!
Next Steps
Once you receive finalized paperwork for your business, you can apply for business licenses and permits in your state. There may also be local and county requirements, so contact business agencies to find out which licenses are required to be an Instacart shopper in your area. You can save some time by reaching out to our business license partners to do the research for you.
Full-Service Instacart shoppers must have commercial vehicle insurance to sign up. Your state may also require you to carry General Liability and/or other policies. If you hire workers, you'll also need to purchase Workers' Compensation insurance. Search the Internet for "business insurance policies" and Instacart insurance requirements to find out which policies fit your business. Our insurance partners offer free quotes and exclusive pricing to our clients.
Let MyCompanyWorks Help You Start Shopping Fast!
Since 2001, we have helped tens of thousands of entrepreneurs form companies for their side hustles and full-time gigs. If you're ready to start shopping but don't want to deal with paperwork, we can file your LLC or Corporation order in as little as one business day. Simply fill out a few details in our order form and we'll take care of the rest. You can check live state processing times by selecting either Corporation or LLC, then selecting your state.
Get access to a free Account Dashboard with loads of free forms, tools, and resources to jumpstart your shopping gig without spending all your startup cash. Check out our latest list of services and thousands of 5-star reviews to make an informed decision and start your dream business today!
This page may contain affiliate links, which means MyCompanyWorks may receive a commission if you make a purchase using these links.
This entry was posted on Friday, October 14th, 2022 at 8:34 am and is filed under Starting A Business, New Business Ideas. You can follow any responses to this entry through the RSS 2.0 feed. You can skip to the end and leave a response. Pinging is currently not allowed.