Starting an Airbnb: 3 Steps to Protect Assets While Making Money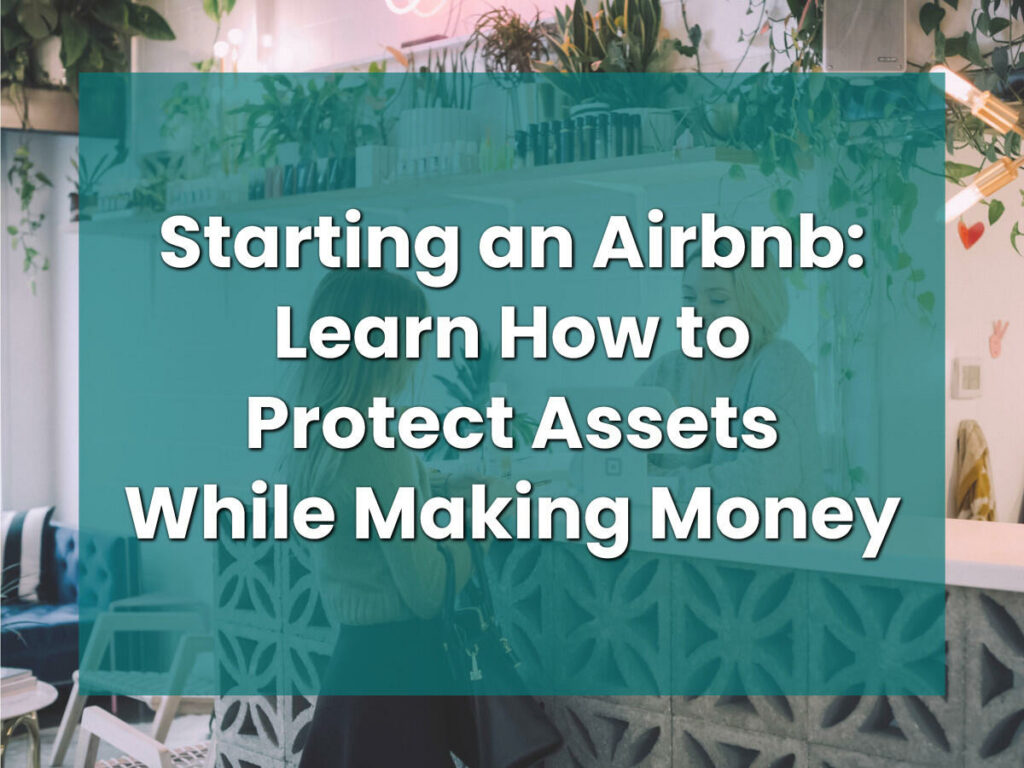 The vacation rental industry is taking the market by storm worldwide. With endless options for lodging in unique settings, it's no surprise that Airbnb hosts are making a lot of money. If you're interested in becoming a host, this guide will walk you through the steps to starting an Airbnb business. We'll go over the Airbnb market share, tax and legal problems for vacation rental sole proprietors, Airbnb LLC benefits, and how to protect your business investment.
We have helped tens of thousands of entrepreneurs start their dream businesses, and we're here to help you do the same. We know there are lots of options to form a company, but not all formation companies are the same. If you're looking for stellar service and the best prices in the industry, compare us to competitors to find out why thousands of startups choose MyCompanyWorks.
If the Airbnb host biz suits you, we can help you form a Limited Liability Company or Corporation in as little as one business day. Read our guide for details and get help with everything needed to launch a successful BnB business in your neighborhood.
How Profitable is Airbnb Business?
"Airbnb's market share is about 20% of the entire vacation rental market, which brings its worth to about $93 billion." – Lodgify.com
Wow! There's A LOT of money to be made as an Airbnb host. This superhost couple makes around $51K every year!
The Airbnb business model offers affordable lodging with unique features and locations. Obviously, some folks are willing to pay more for a great experience, so many hosts have turned all kinds of structures into unique Airbnb pads.
Whether you're offering a clean room at a great price, or want to sell full-blown vacation experiences, Airbnb hosts are raking in cash from additional rooms, converted garages, and any other space they can transform for lodging. Alternative lodging solutions are booming, and there's plenty of opportunity to cash in on your own vacation rental.
Starting an Airbnb as a Sole Proprietor
The online booking platform doesn't require you to have a registered business, so many hosts start renting rooms as individuals, called Sole Proprietors by the IRS. Basically, you can run your business as a sole proprietor, but you have zero liability protection if you're sued by a guest. The only way to protect your personal assets from an Airbnb lawsuit is to register a business – either a Limited Liability Company (LLC) or Corporation. Either option forms a separate entity, or "person", which means the courts can only seize business property and funds to satisfy a judgment.
TIP: If you're leasing space or plant to rent in a neighborhood with a Homeowners Association (HOA), you may need permission from a landlord, and the HOA may have restrictions on vacation rentals. Check with your landlord and/or HOA to make sure you can open an Airbnb.
Benefits of Starting an Airbnb Limited Liability Company
Above we mentioned that Airbnb hosts can start either an LLC or Corporation. The traditional corporation structure can be costly and complex to manage. Because of this reality, most startups only form corporations if their business models are complex or if they have hundreds of employees. In our experience, we have found that most entrepreneurs choose the LLC or Limited Liability Company structure for a few different reasons.
1. Tax Liability
Sometimes an LLC can cost more to start than a corporation, but LLCs don't file company tax returns. Instead, business owners claim profits, losses, and expenses on personal income tax returns. Because all taxes are reported and paid from individual tax returns, an LLC enjoys what is called "pass-through" taxation. Pass-through taxation means that businesses don't pay tax at the entity (LLC or Corporate) level.
Note that you may also have to pay sales or other taxes, based on state requirements.
2. Management Flexibility
LLCs aren't required to file as many accountability reports as their Corporation counterparts. There's less paperwork involved with an LLC, making it easier for small businesses to stay on top of compliance requirements.
3. Personal Asset Protection
Forming a Limited Liability Company separates all your business and personal assets. Anything that is owned by the business (the vacation rental, inventory, and any funds in the business bank account) can be seized to satisfy a business legal judgment or company tax lien. However, none of your personal wealth or assets can be seized to satisfy business debts.
How to Start an LLC for Airbnb
Before you sign up to be a host, you can register an LLC or a Corporation to get paid as a business and protect personal assets with limited liability protection.
TIP: Elect S-Chapter, or Small Business status with the IRS to lower your tax rate. Even though the designation is called an "S-Corporation" or S-Corp for short, LLCs can elect the Small Business status by filing form 2553 with the IRS.
Write an Airbnb business plan – it doesn't have to be complex, but a proper business plan should show you whether or not your vacation rental gig will be profitable before you spend a dime.
Every successful Airbnb pad should have a unique business name – Try a few names with 2-3 catchy and memorable words that describe your rental and the services included with a stay.
Start a Limited Liability Company (LLC) or Corporation. If you're a Do-it-yourselfer, you can use our startup guides to form a company anywhere in the US. Create a separate entity to define what belongs to your business. Make sure to apply for a federal tax ID, also known as an Employer ID Number, or EIN. You can apply on the IRS website or add the service to your LLC formation order and we'll apply for you. Even if you don't have employees, an EIN can be used instead of your social security number to reduce the risk of identity theft.
Next Steps
You can apply for local and state licenses and permits once you have your completed business registration. Each state has different requirements, so you'll have to do some research to find the right applications. You can also hire our business license partners to do all the research and forward the necessary documents to apply for licenses and permits.
Airbnb businesses must carry insurance policies to comply with state regulations. You may be required to carry General Liability and Property insurance. Airbnbs that hire employees must also carry a Workers' Compensation policy. Search the Internet for Airbnb business insurance requirements to find out which policies are required. Need a little help? Our insurance partners can give you a free quote and exclusive pricing to streamline the process.
Your Airbnb business needs a separate bank account to collect rental fees and pay you from the business. Your local bank may offer business solutions, or you can check with our banking partners to find simple banking solutions that best fit your needs.
Sign up as an Airbnb host using your new company name and EIN (employer identification number). If you signed up as an individual, you can update your personal details with your new company information in your account profile. Once your payment information is updated, you should start receiving payments in your company's name.
Start an Airbnb Business with MyCompanyWorks
Ready to start? We can help speed up the process with comprehensive startup packages, loads of free resources, and links to everything you need to start and grow your business. Check out our latest comparison to make an informed decision, then order your LLC or Corporation online. We can usually process your order in one business day and you can track live progress in your free account dashboard (My Account Dashboard).
The MyCompanyWorks Vendor Network is a portal where you can find recommended vendors in over 40 business categories. Take advantage of free quotes and exclusive pricing and discounts to help you save time and money. Check out our FAQs page or contact our expert support team for more information.
This page may contain affiliate links, which means MyCompanyWorks may receive a commission if you make a purchase using these links.
This entry was posted on Friday, October 7th, 2022 at 3:15 pm and is filed under New Business Ideas, Starting A Business. You can follow any responses to this entry through the RSS 2.0 feed. You can skip to the end and leave a response. Pinging is currently not allowed.