Startups Made Simple Step One: Imagine It
Below is an excerpt from our book Startups Made Simple: How to Start, Grow and Systemize Your Dream Business. Learn more about the book here.
---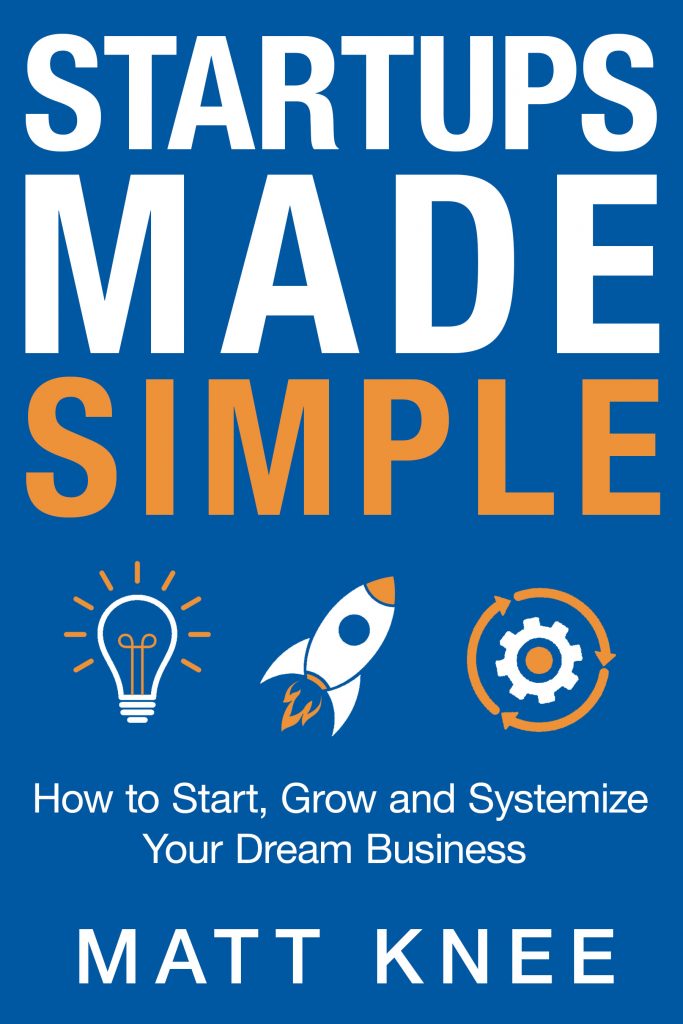 "The essential principle of business—of occupation in the world—is this: figure out some way in which you get paid for playing." – Alan Watts
Imagine the perfect business for you where you are doing what you love. What would that look like, and what would you do (or not do) on a daily basis? Having this vision is the first crucial step in creating your ideal business and is why I consider it one of the founder superpowers.
Why is having vision important? Because there is something magical about the human mind and its ability to make a clear vision a reality, sometimes without you knowing it. Anyone who has built something from an idea in their head knows this; whether it's a business, a dream house, or anything else.
Some of you more scientific types may have flinched when I wrote "magical" above, but fear not, I have science on my side. Having a clear vision in your head activates certain parts of your brain. One of those is known as the reticular activating system or RAS, and its purpose is to filter out unnecessary information and then focus on information that you've deemed important.
An example of this is when you can filter out all the voices and background music in a restaurant to focus on one person. Or, when you have been thinking about buying a particular make and model of a car, you begin seeing it all around town or online. This is your RAS in action.
A similar phenomenon is actually one of a human's cognitive biases called selection bias. You think there is more of something simply because you notice it more. But unlike most biases, which are usually negative, we can use selection bias and our RAS to begin focusing on the things that are going to make our vision a reality.
We're going to make our Vision so clear that your brain will have no choice but to immediately begin working overtime (especially at night while you sleep or doing unrelated activities like walking) to solve the problem you're working on or idea you're thinking about. This is another aspect of our brain called the default mode network (DMN) that works while you are not focused on a specific task.
For years, I've been letting my unconscious mind work on problems for a few days and the solutions just come, usually while I'm in the shower, walking, or doing something not directly related to work. Does this sound familiar? Having ideas in the shower or while walking or driving is almost a proverb at this point. This is your DMN, and it works best (mostly by making connections in your brain) when you're relaxed and not focused on something specific.
You'll begin to notice things that will make your idea a reality, suddenly see the clear solution, run into people that can help, or see opportunities and connections that you previously ignored. This is the power of having a clear vision.
Motivation and Desire
We know that if we have a clear vision, our brain will help us make it a reality. This means the next step is to ask yourself what you really want. What is your primary motivation for starting a business? This question seems obvious, but I see many people get this wrong and say things like "to be a millionaire" or "to buy my dream house and car" or "to not be broke anymore."
What I want you to do is take what you want a level higher and really determine why you want to start a business. If you're honest with yourself, you probably want some or all of these things:
Freedom

Financial: freedom from worrying about money ever again or enough money to fund your lifestyle
Schedule: freedom to do what you want when you want
Control: freedom from having a boss

Contribution

Making your community a better place
Helping people with their problems
Saving the planet or moving humanity forward
Living heroically with purpose and meaning, living with core values and principles

Admiration

Self-respect: to challenge yourself to do something difficult
Respect of family, friends, peers, and other important people
Attraction: to attract the kind of people (or even a husband/wife) who may also have my same values or passion about my chosen industry

Power

To more effectively influence the future or other powerful people
The list above is not exhaustive, but I hope you can see how identifying a deeper purpose to your business can actually make it more powerful when you visualize what you ultimately want in a business. This is powerful motivation, so take the time to do this. It shouldn't take long because it's usually pretty clear when presented like this.
The next step is to turn this motivation into a burning desire. The entrepreneurs who seem to make it are those whose level of desire for freedom (for example) is so powerfully overwhelming that they'll do absolutely anything to make it succeed. This is related to Agency, which we discussed in The Founder Superpowers.
For example, working for others, before I started my company, was so frustrating and soul-crushing for me that there was no way I was not going to have my own business eventually. Anyone who knew me at that point knew I was going to do my own thing before long because I wouldn't shut up about it. I made my freedom a burning desire, and I did absolutely everything within my power (which, admittedly, was very little at that time) to make that a reality.
The Perfect Business
"If just you keep your mind resting against the subject in a friendly but persistent way, sooner or later you will get a reward from your unconscious." – John Cleese
Now that we're getting clear about why we want to start our business, it's time to start getting more specific. Remember, we want a clear Vision so we can get our mind working on making it a reality. Even if you have no idea which business idea you will eventually pursue, you probably know the types of things that you are good at, the working environment you prefer, a daily routine, and more.
In the introduction to this book, I wrote about imagining the perfect business for you. This is important because so many entrepreneurs end up trapped in a business they don't like running, a daily routine that is not for them, and having a lifestyle that is not ideal for them. There are so many ways to be successful in business that it's important not to limit yourself to the concept of a business that may not be perfect for you.
Some people dream of owning a huge, world-changing, international company and others simply want a small profitable local business. Some people like early morning meetings and daily interaction with a large management team, and others would prefer a business that pretty much runs itself or can be run from anywhere. It's important to figure out what the size and complexity of your perfect business is before you start it.
Because one of my primary motivations is freedom, I've structured my business so that it doesn't require constant supervision, doesn't require many meetings, and doesn't require me to have a set schedule at all. Frankly, the corporate life is repulsive to me, and I prefer to work from home most of the time with my family. Somebody who wants to build skyscrapers or land on Mars would obviously have a much more rigorous daily routine.
Answer the four big questions about your perfect business:
What does your perfect business look like?

How big is it?

Successful one-person company
Small boutique or micro-business (2–5 employees)
Small business (5–20 employees)
Medium to large business (20–200 employees)
Major company (500+ employees)
Franchised or multiple location business (any number of employees)

Who do you work with? Consumers? Other businesses?
How many people are working for you?
What does the office (or retail space, etc.) look like?
What colors and designs do you see?
What do others think of your business?

What is your perfect day?

What time do you wake up and what is your routine?
Do you work from home or at the location?
Do you work at all or only when you want? Are you free to go on vacation whenever you want?
Do you interact with a lot of people, customers, and employees—or not?
What do you do at night?

How much money do you make per year?
What is the endgame?

Do you run it yourself and work until you retire or die?
Do you keep it in the family after you retire or die?
Do you sell it? In how many years?
Do you systemize it and hire others to manage it so it keeps generating passive income indefinitely?
Do you get venture capital or equity investors to take the company to the next level?
You get my point here. The more you know what is perfect for you, the more clear your vision and the sooner we can start limiting the types of business ideas that would be perfect for your personality and preferences. The endgame is also important as it shows what the priority is for how you set up your company.
The Business Idea
"All children are born geniuses, and we spend the first six years of their lives degeniusing them." – R. Buckminster Fuller
By imagining your perfect business, you've immediately begun to clarify the types of business ideas that may or may not be ideal for you. If you already have an idea, we'll go over ways to clarify that idea as well.
For example, if you value freedom and imagine working from home with plenty of free time and vacations, you probably aren't thinking of starting a restaurant. Sure, you can start one and eventually get to that point of freedom, but if you're bootstrapping and have limited funding, a restaurant is going to take considerable time and money at first.
To begin, let's expose the myths that business ideas are "lightning strike" inspirations and that only certain people are good at generating business ideas (or ideas in general). These myths are pervasive and almost exactly wrong.
First, there are very few ideas that survived intact after launch. Many businesses started with one idea and pivoted to another idea. Microsoft didn't start out selling operating systems, for example. The chat application Slack started out as an internal company tool. There are many examples like this, and the obvious idea was usually not that obvious until the company started getting customer feedback.
Ideas are a starting point, and many times, entrepreneurs play with them for months or years before they even realize the idea could be a business. Many side projects have turned into successful businesses this way. The entrepreneur didn't even know they were an entrepreneur; they were just tinkering with something they loved.
Second, generating ideas and tinkering around with things you like is a natural function and a skill that can be relearned. Almost every human started out curious, making connections, being creative, and coming up with new thoughts and ideas. Do you know a toddler who isn't curious about things? If anything, kids will drive you crazy with questions, ideas, and their creative messes everywhere.
Only something as silly as our current schooling system (based on an 19th century model that specializes in producing factory workers) could take that natural curiosity and browbeat it out of a kid. Schooling mostly teaches you not to think creatively and only to do what you're told. Don't question things, sit still, read these books, do these exercises, etc.
The Perfect Idea for You
It's time to get more specific about the kind of business idea that would be perfect for you. The Japanese have a concept known as ikigai which means "reason for being" or "reason to jump out of bed each morning." Think about it, there's a cross-section of things that would make something absolutely perfect for you to do each day and want to "jump out of bed," and it's likely a cross-section of:
What you like to do
What you are good at
What's needed
What you can be paid for
What You Like to Do
You want to start with business ideas based on things you like to do. This should be obvious, so I'll just say that if there's one thing you should avoid it is starting a business doing things you don't like to do. Now, you're always going to have to do things you don't like to do in any business, but for the purpose of business ideas, make sure you're at least interested in the industry or topic.
Notice I didn't say "What you love to do." Passion in business, in my opinion, is overrated as a starting point. If you're going to wait to start a business you're totally passionate about, then that might be an extremely high bar, though I admire it if you can find it. I believe a true passion often develops after you become an expert in something.
Some things to think about are what you would do if you were already a billionaire and had total freedom. What types of projects would you engage in, or what would you like to do daily? A big myth is that satisfaction comes from the money in a business, but there are plenty of miserable millionaires. It's important to identify what you truly like to do.
What You Are Good At
You may love something deeply, but if you're no good at it, then you either need to upgrade your skills or focus on something else or another aspect of that business. Notice I didn't write "What you're an expert at." When you explore potential business ideas, you will know if the basic skills required for that business are something you might be good at.
For example, I'm very interested in Bitcoin and the cryptocurrency industry at the moment, but my math and programming skills are lacking. Now, this doesn't immediately disqualify the idea in my head; I just know that to get involved at the technical expert level it would probably take a year or two of learning to catch up.
However, and this is important, if I feel that eventually I will get there, what I can do in the meantime is learn everything I can, start a blog or email list on cryptocurrency, meet other cryptocurrency experts, follow the industry closer, follow or hang around other startups and gradually become an expert.
Here's one thing that people miss out on a lot: They're so good at that particular thing that they don't even think it's special or that people would pay for it. Seriously, there's a lot of hidden talent in the world, and it's important for you to identify the low-hanging fruit right in front of your face. Do people constantly ask you for help or advice on a topic? That might be something you are fantastic at but may not realize yourself. It's important to pay attention to this.
Another way to look at it is to identify the Founder Superpowers in Part One that you're already good at, and see if you can apply those skills to what you like to do. For example, if you're already great at productivity, then you can apply that to an enormous amount of businesses or industries. I don't know one industry that is not looking to improve productivity.
You can even focus on that superpower alone and teach it to others: productivity consulting, blog/newsletter, ebooks, training, or just become the "productivity expert" for the bookkeeping industry or whatever your primary interest is. The same thing applies to communication skills, decision making, etc. This is why I call them superpowers; they are applicable and give you skills in almost any industry or business idea.
What's Needed
Many people know what they like to do and what they're good at. However, the other two parts of ikigai are the critical pieces of the puzzle: what's needed and what you can be paid for. If businesses fail for any reason, it's mostly a lack of these two things.
You may be an expert on World War I flamethrowers or at restoring Atari 2600s from the 1980s, but that doesn't mean that those things are necessarily in demand by that many people. "What's needed" is another way of saying "Is there a demand for this product or service?" Do a large amount of people need this enough to make a real business?
Now, there's a famous quote from Henry Ford: "If I had asked people what they wanted, they would have said faster horses" which is hilarious but something I want to clarify. Yes, most people don't know what they want, but identifying "what's needed" is about making sure that you've thought about the problem properly. In this case, people knew that riding horses was way too slow, and they had a strong desire to move faster.
What's needed is to move faster, not a faster horse. This is an important distinction, so you should think about the core problem that people have (wanting to move faster), not necessarily the specific one (faster horse). For McDonald's, it's not about having a better burger (almost every decent restaurant does), it's about having a fast, convenient, and predictable eating experience at every McDonald's worldwide. They didn't solve the "better burger" problem, they solved the convenience and trust problem.
If one of your primary motivations is to help others, a great way to think about business ideas is to frame it as "How can I help the most people possible with my product or service?" This will make you start thinking big about the worldwide demand for your product or service.
Finally, if you can focus on being the best (again, assuming this is needed), then the best product or service rarely loses and usually demands the highest prices, so that's one way to pursue an idea: be the absolute best in the world at it.
What You Can Be Paid For
Back to World War I flamethrowers and Atari 2600s—you want to make sure there are enough people that want to actually pay you to justify your business. Later, we'll go over how to test your idea, and that's why testing and feedback is so important.
For now, it's important to get feedback on your idea from real people. One thing I like to tell entrepreneurs is not to keep your idea secret. I know that you might be terrified of people stealing your idea, but one thing to understand is that likely (not always) the idea is not that new. Don't take offense by this, there are very few new things in this world if you really take the time to think about it. Almost everything is a modification or combination of old ideas. For, example, Facebook = People Directory + Photos + Email.
Venture capitalists typically refuse to sign a "non-disclosure agreement" (NDA) with entrepreneurs for even the most "top secret" ideas because they've found that it's actually more of a hassle to sign the NDA then it is to read the idea. Put that in perspective: A VC actually values the time it takes to sign an NDA (minutes) over the vast majority of business ideas.
Ideas, for the most part, are worthless without execution (why I consider execution a critical Superpower). Besides, 99.999% of the world is not interested in your idea now like you are, nor will they likely have the passion you do to implement it, so it's usually pretty safe to share it.
Where I'm going with this, and what we'll go over in Step 2 in more detail, is that it's important for you to contact potential buyers and then survey or ask them if they would pay for your product or service. Ask real customers, and if they're excited and basically react by basically saying "Shut up and take my money!" then you know you may have a winner. You may even find out people are willing to pay handsomely for WWI flamethrowers or Atari 2600s.
How to Generate Business Ideas
As discussed, there are no magical formulas or "a-ha" moments for the vast majority of business ideas. It's mostly a matter of consciously paying attention to your surroundings and developing the skill of generating ideas. Yes, generating business ideas is a skill that can be learned. Here are some of the principles that have proven to be true among the greatest "idea people" in history.
Principles for Generating Ideas
Be on the hunt for ideas but be patient. Remember when we discussed the RAS earlier? For it to work, it needs to know what to focus on. Have your vision of your ideal business in your head, and specifically command yourself to utilize these other principles. You've now told your brain to be in problem-solving mode, and that's the key to finding ideas. Be patient and focus on becoming a person that has startup ideas, and the ideas will come. Chance will favor the prepared mind.
Identify what you are already good at. This is where an electrician or chef will start their own business based on their existing skills. This is how the majority of businesses are started, so it's usually fairly obvious but we want to put this through our ikigai framework above to see if this really is our perfect business. Also, make sure to identify business ideas you may not be aware of. Are people constantly asking you for advice on a certain subject? Ask some friends to tell you what advice they go to you for. Which of the superpowers in Part One of this book could you apply to what you're already good at? The Mexican restaurant chain Roberto's started when Roberto, the founder, started selling his wife's delicious tortillas at his construction job.
Have lots of ideas and write them down. One thing not well known is how many failures Thomas Edison had, which was literally thousands of ideas that didn't pan out. Einstein had many scientific theories and papers that went nowhere. It's starting to become clear that being good at having ideas actually means just having lots and lots of ideas, writing them down (you will forget; writing = clarity), then ruthlessly trimming the bad ideas and keeping the good ideas for testing. Commit to generating 5 or 10 new ideas a day (no matter how silly), and you'll get better at this over time. Write them down and keep them in the same place so you can review all of them. I use one document to organize mine.
PITA Factor. One thing great entrepreneurs are good at is identifying the "pain in the ass" (PITA) with everything around them. They can always see a way to do something faster, cheaper, better, easier, and especially how to make a problem go away. Pay attention to things that drive you (and your friends and family) crazy or things that "should be fixed already;" there are great business ideas in there. The product known as Spanx, created by Sara Blakely, are just pantyhose with the feet cut out (which used to drive her and many other women crazy). Spanx is now a billion-dollar company.
Build for yourself. Closely related to the PITA Factor is building something you yourself desperately need or want; especially if what exists is lacking in some way. The list of huge companies that come from this principle alone is astounding (Apple, Facebook, Google, etc.). There's nobody more motivated than an entrepreneur who's passionate about their own product or service.
Simplify. A lot of great ideas are really an old idea just simplified and made easier. You can take something that is currently complex and ask, "What would this look like if it were easy?"
Think big but start small. Thinking big is a great way to get motivated. However, it can be overwhelming in the idea phase, so choose the absolutely smallest part of that vision that you can test and implement now. The faster you get executing, building your skills, and getting real world feedback, the greater the likelihood of building momentum and success.
Don't obsess about originality. As discussed, there are very few real new ideas. Are you using MySpace or Facebook? AltaVista or Google? Woolworths or Walmart? Being the first of anything usually makes someone a target or they create the idea that others execute on better. It's not so important to be the first in any business idea and coming later gives you a head start—there's already a proven market!.

"Most everything I've done I've copied from somebody else." – Sam Walton
"Good artists copy great artists steal." – Pablo Picasso
"We have always been shameless about stealing great ideas." – Steve Jobs

Change your environment and relax. Most people don't think well in their office or even in their living room, and your RAS seems to make connections specifically when you're not working. They tend to have their big thoughts exercising, showering, driving, walking in nature, and all over the place. This is why a lot of office brainstorming sessions don't pan out; forcing creativity is almost exactly backward. This is also why it's important to keep a digital or paper notebook with you at all times.
Think off the radar. So many startups these days want to compete directly with Facebook or Google, which is an incredibly high bar. Do you really want to compete with hyper-competitive Silicon Valley? There are thousands of millionaires in industries like zippers, junkyards, small manufacturing, shoelaces, recycling, and hundreds more. Don't just limit yourself to what you see in the business news everyday. The great thing is that competition will usually be much lower in these industries because they're off the radar. All the Founder Superpowers apply to almost every industry in the world.
Pay attention to trends. Anyone can see that drones, 3D printing, and virtual reality (VR) will be big. But you don't necessarily have to be an expert in VR to anticipate what a large VR market looks like (how to treat VR addiction, VR headset organizer, VR productivity consultant, etc.)
Be contrarian. Go the opposite way of the trend. For example, if everyone is into VR, this means real life experiences are actually more valuable now. People will want to see how a farm works, how to ride a real horse, or how to stitch instead of 3D printing. People will want real food, real coffee, and real experiences.
Consider a niche. Many markets are large and already dominated by big players. However, you can focus on a niche and dominate that small segment. For example, there are lots of yoga studios, but you might open one that's for older folks or men or women or people who do spiritual meditation or different themes/music or combined with weights or diet counseling, etc.
Get 1,000 true fans. Similar to a niche, Kevin Kelly popularized this concept for artists and craftspeople-entrepreneurs. If you can get 1,000 or more people to pay you $100 on a regular basis, then that's $100,000 each time (or much more, potentially) to get paid to do what you love.
Try brainstorming tools. SCAMPER is a brainstorming tool (used by Disney and others) that can help you ask questions to generate ideas (or improve existing ones). It stands for Substitute, Combine, Adapt, Modify, Put to another Use, Eliminate, Reverse. You ask a question and generate as many ideas as possible. For example, using Combine, you could take your idea and ask ways to combine it with others. For Eliminate, you ask what you can get rid of to simplify this or take something down to its bare minimum. There are many similar tools and examples online.
Don't analyze ideas immediately. Once you start generating ideas and that becomes a habit, don't start analyzing them and their feasibility immediately. Go with the flow and just keep generating ideas, and write them down. There will be plenty of time to deeply analyze and test them later (and we'll go over that), but that uses a different process in the brain—so when you're being creative, just be creative.
Watch/read business biographies and science fiction. Nothing quite gets the business ideas flowing (and what I call "motivational jealousy") like seeing how a lowly entrepreneur like John Rockefeller or Ray Kroc started from humble beginnings to take on the world. The same concept applies for science fiction as it will make you think of how things might be in the future or how you might want things in the future.
Hustle first. Consider selling things on Ebay, Amazon, or Craigslist, or become an affiliate or reseller of other companies products/services—or even do random work for pay, especially if you're hesitant to take the full plunge. Many entrepreneurs started out this way, believe it or not; they just fell into a business, and it grew from there. Try to get into something close to what you want to do. This is how you got those Founder Superpowers, get good at hustling and getting things done.
Buy somebody else's idea or business. Sometimes you don't have the desire or resources to come up with a business idea or perhaps your skills are more on the operational or marketing side of business. The Internet is full of places where you can buy existing businesses, websites, and even pre-made brand ideas. I list some in the Chapter Resources. You can then use the rest of this book to optimize and improve that existing business, and, in many cases, they may have already done the heavy lifting of forming the company, getting clients, etc.
The list above is not exhaustive, but I think it covers the major ways that ideas are generated and gives you a great framework for thinking about your own. Again, I want to emphasize that it's important that you start thinking like somebody that has business ideas and that this may take time. Don't limit yourself, and trust in your brain to work on the problem you've assigned it: creating the perfect business idea.
Signs of a Winning Idea
Everyone is different, and sometimes there isn't much evidence of one idea being better than another until you get feedback. But there are some similarities between winning ideas shared by many great inventors and entrepreneurs. Here are a few:
Gut feeling or excited. It makes you excited or gives you tingles and you can see yourself dedicating a few years to making it real. As discussed, passionate entrepreneurs tend to win.
Excited potential customers. People who may be your ideal customer are excited about it. If they're willing to pay right away, even better. Sometimes this is even called "customer financing."
Huge market or potential market. The five-year outlook is enormous (like VR, 3D printing, cryptocurrency, etc.). It's hard to lose in a huge market that's not saturated yet (but then we can still think about niches in that market), especially an emerging market.
High margins. With some notable exceptions, high-margin businesses are usually better all around. High margins can come from a product or service that is many times better than competitors, highly complex, from a "first-mover" advantage, unique business model, or technology (usually a fast-scaling model), etc.
Lowers prices. Making something cheaper that is currently too expensive.
Raises human status. There's so much cheap coffee and beer available that it actually became cool to pay a lot more for these things. Find a commodity for which people would pay a lot more for a "premium" version.
Much better product or service. Making something much faster that is currently slow. Make something very simple that is currently complex, etc.
Recurring revenue and sticky. Anything where you can get a customer once and continue to have them pay you on a recurring basis is a fantastic business model. It makes your income much more predictable and stable over time. This same idea is "sticky" if it's difficult for the customer to switch to another service or you have no or few competitors.
Protectable. As discussed, most ideas are not new. However, if you have a truly new invention or technology, it's important that you protect it with a patent.
Viral or network effects. Can it be easily spread by your customers to other customers? Think about how Facebook invites your address book or those funny Dollar Shave Club videos shared millions of times.
Next Steps
Step 1 is about focusing just on the idea and your imagination. I've created what I call the Business Idea Generator (BIG) which you can download in the Chapter Resources. I don't want you to interrupt the creative process to move on to more practical things, so continue to use the BIG until you feel like you have a pretty good idea on your hands and are ready to get down to the nitty-gritty.
When you're ready, move on to Step 2 where you'll do a quick business plan so you can test this idea, see if there's a market for it, and begin organizing your perfect business.
Onward!
Visit http://www.startupsmadesimple.com for Chapter 5 Resources and to download the Startups Made Simple Business Idea Generator (BIG).
This was an excerpt from our book Startups Made Simple: How to Start, Grow and Systemize Your Dream Business. Learn more about the book here or see our previous excerpts here.
This entry was posted on Friday, August 7th, 2020 at 11:22 am and is filed under Starting A Business, Startups Made Simple Book. You can follow any responses to this entry through the RSS 2.0 feed. You can skip to the end and leave a response. Pinging is currently not allowed.