Can I Sell on Amazon as a Non-US Citizen? Answers and Help to Get Started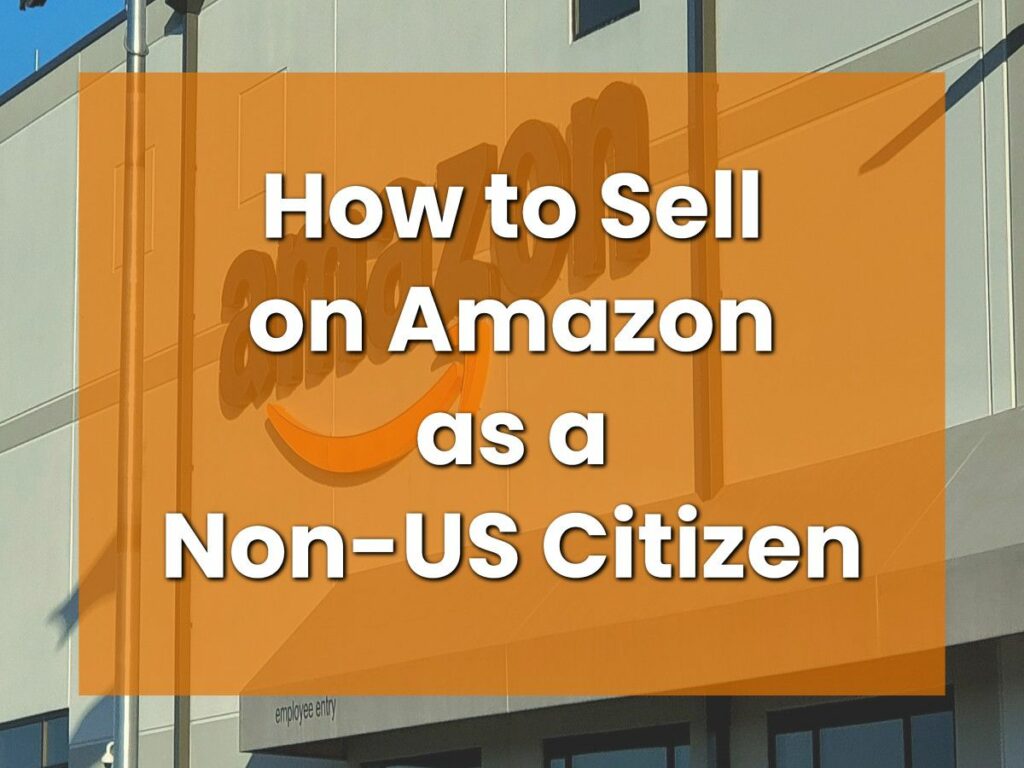 Can I Sell on Amazon as a Non-US Citizen?
You don't need to be a United States citizen to sell on Amazon.com, but once you sell 50 or more items on the marketplace, you'll need to have a proper tax ID number. However, if you're selling through Amazon's FBA (Fulfillment By Amazon) program then you'll need to form a company in the United States before you start selling. If you plan on selling more than 40 items per month, this is the most cost-effective way to sell on Amazon.
Requirements to Sell on Amazon.com
The Amazon marketplace is one of the most visited sites online today and is the industry leader for e-commerce sales. To sell products on Amazon you'll need to set up an Amazon account, add products manually or through a feed to the vendor website, or use their FBA program and send your products to an Amazon warehouse. There are legal requirements if you're going to sell as a merchant, so make sure to do your research.
Regardless of the type of account you want to open, a non-citizen of the United States will typically have similar requirements to US citizens who are selling on Amazon. These requirements, listed below, include obtaining your FEIN (Federal Employer Identification number).
You don't have to be a corporation to get your FEIN and sell as an individual, but it may be cheaper to register as a merchant, but you'll have to form a business. If you're not a US citizen, you'll need the following information in order to register an FBA account. This information is required for both individual and merchant seller accounts.
Your Home or Business Address: A place where you can receive personal mail.
Email Address: An address Amazon can send important information about your account.
Credit Card: An internationally chargeable credit card with a valid billing address.
Phone Number: This will be needed to verify your identification during registration.
United States Tax ID: Either a social security number (for individual sellers only) or an FEIN.
Bank Information: You'll need a bank that can take an ACH (automated clearing house) payment from Amazon.
Additionally, if there are states where you have a tax nexus, you'll need to include your state tax ID number for each of those states. If you don't live in the US, this will only apply to business you have in specific states for the business that sells on Amazon.
Once you have all the information above, you'll meet the minimum requirements to open an account and sell on Amazon. You can move forward with registering your account at Amazon's Seller Central. During the process, you'll need to choose to either sell as an individual or as a merchant. Let's take a look at the comparison.
Can I Sell on Amazon as an Individual vs. Merchant?
If you're going to be selling on Amazon, you'll want to make sure you're maximizing the amount of money you can make. Choosing the right account type is part of this process. You can sell as an Individual and Amazon will charge you $0.99 per item sold plus referral and closing fees.
You still have to pay those fees with a merchant account but instead of nearly $1 per item sold you'll just pay $39.99 per month, regardless of how much you sell. So if you're selling more than 40 items per month then you'll likely want a merchant account, which requires your FEIN to register.
Another option is to use Amazon Vendor Central if you'd prefer to be a vendor of Amazon's products and their listings on the marketplace. As a vendor, you sell to Amazon and not to consumers through Amazon. While Amazon does the heavy sales lifting for its vendors, you'll lose all control of pricing and placement.
Fulfillment by Amazon
Another decision you'll have to make during the registration process is whether or not you'll want to use Amazon's FBA option. This might be more difficult for non-U.S.-based individuals and businesses. Essentially the program allows you to store your products in one of Amazon's facilities where they'll take care of all the order fulfillment and shipping for you. Additionally, the program allows your items to be put on Amazon's Prime shipping program, which is the most used shipping feature on the Amazon marketplace.
This is recommended for most businesses that sell a lot because it lowers your business operations and increases the amount of opportunity to get sales. You won't have to worry about customer service or returns but you'll have to get all of your products to Amazon in order to take advantage of the program. There are no additional restrictions to the FBA program based on where your business is primarily located.
Once you've made these decisions, you can register either an individual or merchant account. Below are the requirements to register a US business for non-citizens and residents.
Registering as a Business in the United States
Regardless of where your business is located, we recommend registering your business as a legal U.S. entity before applying to be a seller on Amazon if you plan on selling more than a few items per month. It's a smoother process and the tax benefits of being a business could be beneficial for you. Plus, not only will registering as a business protect your personal assets but it typically makes the entire setup easier if you're going to use FBA, and it's required if you're going to sign up as a merchant or a vendor.
Luckily, you can easily register a business entity through the help of a third party that will draft and file all of the legal paperwork for you. All you need to determine is what type of business you want to create, as we discuss below, and who your registered agent is going to be.
Getting a Registered Agent
Part of registering your business means getting a registered agent within the state your business is created. Most states require you to have a registered agent, which is a person or entity that can receive official legal notices and correspondence from the government. This is especially helpful and needed if you're not a citizen or if you don't reside within the country.
Businesses routinely offer registered agent services to help businesses that do not have a physical address, in the event there is a legal notification to the business. Not selecting a registered agent could cause your business to fall out of good standing with your state, resulting in the business entity potentially being disbanded.
Frequently Asked Questions About Selling on Amazon as a Non-US Citizen
There are many questions that you may have in regards to registering your business or selling on Amazon as a non-resident of the United States. Below we've collected the most common questions and answered them to help you quickly find the answer you need.
How do I Open My Amazon Seller Account?
Go to sellercentral.amazon.com and click the "Register Now" button. On the next page, you'll click the "start selling" button, which will prompt you to log into your account. If you have an existing Amazon account of any kind, you can use the same login to access seller services. However, we recommend creating a separate Amazon business account.
You'll then be taken through the steps of providing the information we discussed above to register your seller account. Once you're verified you can start creating product listings and selling to the masses.
Tips for Registering on Amazon
Selling on Amazon, Shopify, Etsy, and other vendor platforms has become very popular in recent years. Unfortunately, so has fraud, and these platforms have made their requirements for becoming a seller much more difficult (and they are frequently changing). Here are some basic rules when applying to Amazon, Shopify, Etsy, etc.
Do your preparation and homework (follow this guide). Amazon and others have gotten very picky about their requirements and your chances of being approved are much better if you do it right the first
time.
From what we can tell, about 50% of the time Amazon (varies with other vendors) will accept your seller application with a US business address and phone number. The other 50% of the time they may additionally require a utility bill, a business license, or both. Sometimes they will approve your application, then require a utility bill or business license afterward (sometimes months later).
We simply don't know what triggers the utility bill requirement but we believe the best option is to have a well-done initial application. So, as we mentioned above, you will want your business name, personal name, business address, and phone number to all match exactly when you apply. Be consistent.
Document best practices:
a. Provide PDF or PNG format files. No editable documents like Microsoft Word, Excel, RTF, etc.
b. Do not provide screenshots. Provide proper pictures or scans. We recommend Genius Scan for Android or iPhone.
c. No zipped files and certainly no files that have been edited.
d. Do not cut off any edges in your scanned document.
e. Provide the full document in color. Example: If it's a passport, provide all pages in one document; if it's a bank statement don't just provide the first page, provide all the pages.
If they do require a utility bill, here are bills that are usually accepted:
a. Gas
b. Electricity
c. Internet
d. Phone (Landline only, no mobile providers)
e. Sewer
f. TV
g. Water
NOTE: Some clients have mentioned that Wise statements are accepted.
If you don't have utilities at your current US business address, see if you can get your personal utility account in your business name with statements sent to your US business address. Many US business addresses (like ours) provide mail forwarding and scanning.
If you've already applied with bad or rejected information, then log back into your account (even if it's suspended) and update everything to the correct name and address, provide the correct files, etc. Reach out to vendor support and mention you have updated your profile and provided the correct information to help make your case.
How do I Get a FEIN Number if I Don't Register a Business?
You can obtain your FEIN number by filling out Form SS-4, as provided by the IRS (we can do this for you as part of our service). You don't need to have any legal status in the country in order to get this number. Once you have the number you can sell products on Amazon as an individual instead of registering your business. If you're registering a business, then you should wait to get your FEIN through that process.
What Types of Businesses Can Non-US Citizens Register When Selling on Amazon?
Currently, if you're not a citizen or a resident of the United States you can only create two types of legal business entities: an LLC (limited liability company) or a C-Corp (or corporation). You can also create an S-Corp if you're a permanent resident of the country, even if you're not a citizen.
There are many factors you'll want to take into account when choosing between an LLC and a C-Corp. To learn more, check out our article on choosing the right business entity.
Do I need a Visa to Register a Business in the U.S.?
No, you don't need a visa to register a business, however, the registration process doesn't give you the right to travel to the US. This is why many foreign business owners choose to apply for a visa when they register for their business. The E-2 Visa is a common one used by startup business owners registering in the country for the first time.
Register Your Company Today
If you have decided an Amazon business is the right fit, you can get started by registering a business today. Forming a Corporation or LLC allows you to sell as a merchant on Amazon. The process only takes three steps and MyCompanyWorks will register your business in any state and obtain your FEIN. Select the company type and state where you want to register to get started right away.
NOTE: We do not assist nor have any contacts to help you with applying to Amazon. Please contact Amazon Seller Support if you have a question about applying as an Amazon Seller.
PLEASE DO NOT REQUEST SUPPORT IN BLOG COMMENTS WHICH ARE NOT REGULARLY MONITORED, CONTACT OUR SUPPORT TEAM.

This entry was posted on Wednesday, February 5th, 2020 at 12:50 pm and is filed under New Business Ideas, Incorporation, Limited Liability Company, Starting A Business. You can follow any responses to this entry through the RSS 2.0 feed. You can skip to the end and leave a response. Pinging is currently not allowed.